When we think of sleepless nights as parents, we tend to think of the newborn days- endless feeds, nappy changes and so on. The joys! But these sleepless nights are expected- newborn tummies are only tiny and so they are programmed to wake every three to four hours for nourishment. We know that as they grow older, the periods between waking become less and less until they eventually sleep all night. Right? Well, usually, yes. But some children take longer to learn the necessity of sleeping through the night, and for some parents sleepless nights can go on a little longer. And for other parents, a toddler who used to sleep well can suddenly start to wake too. So why does your toddler wake in the night, and what can you do about it?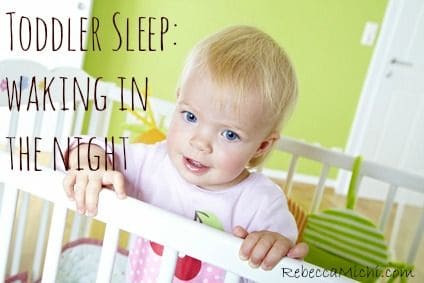 Take a step back to think about the situation. Is your toddler waking up a fairly new occurrence? Has there been an illness, teething or other major change- new bed, new sibling, birthday etc? Any of these factors, no matter how small they may seem to you, can affect a child's sleeping habits. Talk to your toddler about why they're waking up and see if they can shed any light on the situation for you.
Is anything different in your toddler's bedroom? Has the temperature dropped? Or is it too stuffy? Have you had a move round of the furniture perhaps? Does your toddler need a blackout blind to keep the room dim? Look for changes in the surroundings that may be causing disrupted sleep.
Has your toddler been eating new foods? Once children are a little older, we tend to introduce more new foods as they- sometimes!- become a little more tolerant of new tastes and open to trying new things. Keep a food diary to see if anything your toddler is eating could be affecting their sleep.
Is your toddler suffering from separation anxiety? This can happen,especially of there has been a change to circumstances- starting nursery, or so on can have an affect.
Is your toddler getting enough sleep during the day? Sometimes, lack of daytime naps can cause toddlers to become overtired and this can result in poor night time sleep. Take a look at daytime naps and see if improvements can be made.
Is your toddler getting too much sleep during the day? Perhaps it's time to cut the naps a little? Sleeping too much during the day can directly affect night time sleep so you might want to take a look at adjusting this too.
If your toddler has been unwell then you can expect sleep to be a little disturbed, but this regression shouldn't last too long and is easily resolved (read more here). Go back to your sleep training methods and stay consistent.
If you think that your toddler is old enough, talk to him about why he's waking and try to come to an agreement about when its ok to get up. Make sure your bedtime routine is consistent and timely and make sure you praise your toddler for going to bed well- and staying in bed! Like most phases, sudden night wakings don't usually last too long and you should find your toddler sleeping well again soon.
If, however, your toddler has never slept well, you might have a little more work on your hands! Read my Sleep Training Survival Guide and my Very Quick Guide to the Michi Method– hopefully both will help you on the road to better sleep all round. Do get in touch if you have any questions!
Comments
comments