Before we start, it's worth noting that night-time potty training is quite different from the usual daytime training, and that many children are simply not ready to be dry all night just because they are dry during the day. So your child being out of diapers while they're  awake is not necessarily an indication that they are ready to be dry at night too. Most children are around three or four years of age before they are reliably dry at night, with the odd 'accident', but some children can be as old as seven. What's normal is what's normal for your child. Don't compare them to other children, and let them do this at their own pace. That said, there are some sure signs to look out for if your child is ready to leave the diapers behind at bedtime, and hopefully this post will help with that, and with the actual process of making that transition.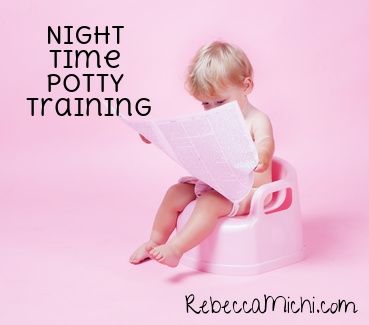 Is your child ready?
Once your child has mastered the art of using the toilet or potty during the day, they might start to wonder why they still need diapers at night time. If they show an interest in removing the diaper before bed, it could be a sign that they are ready to try. Another indicator of readiness is a dry or only slightly damp diaper in the morning- if this happens regularly your child could be ready to ditch the diapers altogether. Don't try to rush your child; just as with daytime potty training, night training is a lot easier if your child does it when they are ready. And there will be a lot less work for you too.
Preparing for no diapers at night
First off, talk to your child. Explain that there is no need for diapers at night any more, and refer to the fact that they aren't worn during the day anymore. Let your child revel in being grown up! On a practical level, invest in one or two waterproof sheets to put underneath your child's usual bedsheets, or buy some disposable covers that you can pop on top of the mattress. This is purely to protect the mattress in the event of an accident. You also need to prepare yourself for this- your child may not make it to the bathroom on time every night and this could result in some broken nights for you and for them. Be aware that this is normal and should only be short lived.
Taking the plunge
The only way to start is by taking away the diapers! During the night your child should, theoretically, sleep through and be able to hold the bladder for the whole period. But help them out. Make sure that your child uses the bathroom right before bed; add this ritual into your bedtime routine so that it becomes second nature. You also need to make sure that your child can get up and out to the bathroom independently if they need to, and especially for the morning. Alternatively you can leave a potty in the room.
Some parents decide to lift their child and take them to the bathroom when they go up to bed themselves. Only you will know if this is worth the effort or not. Some children simply use the bathroom and return to bed, and sleep, straight away. Others will become disturbed or be upset at being woken, and refuse to use the toilet. By all means try, but don't force it if your child is not keen on the idea.
In the morning
Make sure that your child uses the bathroom straight away as the bladder is likely to be full! If your child has stayed dry through the night, praise them and let them know how proud you are. If your child has had an accident, don't make a big deal of it. Let them know that you're not upset and that these things happen. Tonight is a new night.
If your child has a series of accidents, and more than two or three in a night they may not be ready for night-time potty training. All children are different and all develop at their own pace. If you feel that it's just not working, then you can try pull ups rather than diapers, and try again in a few months time.
Some children will get the hang of night time potty training easily, others will take a little longer. Each is fine, and as long as your child does not feel stressed or under pressure, they will get there in their own time.
Comments
comments