One of the best ways that you can ensure a good night's sleep for your baby is by establishing a solid bedtime routine that you are able to stick to consistently. Baby massage is a wonderful addition to any routine because it helps to relax and soothe baby and because it also provides you with a gentle bonding session each day too. If you're thinking of incorporating baby massage into your bedtime routine, do look to see if there is a class local to you where you can pick up essential techniques, or research online. Hopefully our quick guide will help you too: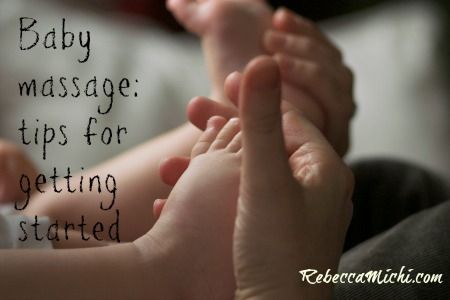 What is baby massage?
Quite simply, baby massage is the gentle stroking of your baby's skin with a specially formulated lotion or oil. It is believed to have been practised for many hundreds of years, and is widely known to relax, soothe and aid sleep. This is all down to the production of oxytocin which is released in your baby's body during the massage- the hormone that gives her warm, loving feelings.
What are the benefits of baby massage?
Bonding. For your baby and you, a massage session is a quiet moment for you to spend quality time together and to strengthen your attachment.
Sleep. Feeling warm, relaxed and safe is conducive to sleep. If you use baby massage as part of your bedtime routine, you are not only providing an essential sleep cue for your baby, but you are also preparing her for a restful night too.
Less crying. Studies have found that babies who are regularly massaged actually cry less and it makes sense too. Why cry when you are feeling warm, rested and loved?
Brain development. Some studies have found that skin to skin contact helps to promote healthy brain development.
Tips for using baby massage effectively
If you want to introduce baby massage into your baby's routine, there are a few essentials you will need to get ready first.
Make sure that the room is warm, lights are dim and it is as quiet and relaxed as possible.
Spread a towel wherever you intend to massage your baby- on the changing table, or your bed for example.
Keep your oil/ lotion to hand.
Lay out clothes for your baby to wear after her massage, and keep nappy changing materials close to hand too.
Play some soft music to help your baby to relax.
When you are ready to start, don't forget to talk softly to your baby- tell her you are going to gently stroke her arm, etc. Use your voice to calm and soothe and keep movements slow and gentle. Keep an eye on your baby to ensure that she is not in any discomfort and always stop when she starts to tire. Baby massage is designed to be enjoyable for you both.
Do you use baby massage as part of your bedtime routine? Do let us know in the comments.
Comments
comments