Skin to skin contact for newborn babies (and indeed older babies and toddlers) is one of Mother Nature's most powerful weapons. The fact that newborn babies respond so positively to a parent's touch is something we should be shouting from the rooftops! Research has shown that babies (and parents) are not only happier during skin to skin sessions, but that the act also helps to regulate body temperature and stabilise breathing too. And that's just a tiny part of why it is so important.
Allow us to tell you more about the beauty of skin to skin.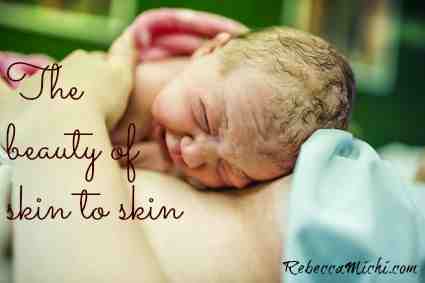 What is skin to skin?
Skin to skin is just that- baby's skin next to yours. No blankets, no clothes and no barriers between you. This takes place as soon as possible after birth, and at regular intervals afterwards as baby grows older.
What are the benefits of skin to skin?
According to Julie Arvan of Nesting Days,
Skin to skin is so vitally important for newborns! Nature has equipped newborns with the instinct to survive, and they will expend an extraordinary amount of energy to make sure they get what they need: warmth, nutrition, and love. Skin to skin care provides all three! 

You can't spoil a baby by holding it too much in those early months. There's a time and place for a routine with older babies, but skin to skin time is simply the most important and most effective thing you can do for a newborn baby and its mother. 
Skin to skin immediately after birth will help to:
stabilise baby's temperature
stabilise baby's heart rate and breathing
allow baby to colonise mother's bacteria (immediately after birth) which is essential for the prevention of allergies
form a bond between baby and parent
reduce stress levels of baby and parent
aid and facilitate breastfeeding
Skin to skin for premature babies
Studies have also found that skin to skin contact benefits premature babies hugely. Kangaroo Care is the term used to describe babies who are held closely by parents in skin to skin contact for prolonged periods of time in the special care units at hospital. These premature babies are able to regulate their temperatures just as well as they would inside an incubator. Other benefits include:
better sleep, which aids growth and preserves energy
less stress for babies when undergoing special care treatments
better weight gain
fewer illnesses and infections
earlier discharge from special care
more chance of long term breastfeeding success
and for the parents of premature babies, Kangaroo Care means that they are able to bond with their baby, and to grow in confidence despite the often daunting experience of being in special care. It's worth noting that Kangaroo Care can be practised with full term babies too.
For more information please see here.
Getting started with skin to skin
So now we know what skin to skin is, and why it is so important- here are some tips to actually doing it.
Immediately after birth
Have baby placed directly onto mother's chest (or father, if mother is unable) immediately after birth
Ensure that baby's head is turned to the side and airways are open
Hold baby close for as long as possible, up to an hour or more.
Some parents prefer to have skin to skin contact for up to two hours after birth, and to request doctors carry out health checks after this time.
In the days after birth
In the days following birth, and indeed the weeks and months following birth too, skin to skin remains an important and essential tool for baby and parent.  If you can, take some time each day (up to an hour is best) to hold your baby against your skin, with baby stripped down to his daiper and your chest without clothes. Some parents find skin to skin works well in the bath tub, so don't be afraid to run the water a little deeper and take a dip yourself.
During your skin to skin sessions, an hour is recommended as baby will be able to go through a full sleep/ wake cycle, and the biological system is given chance to stabilise.
Skin to skin after a c-section
This is possible! Some mothers are able to hold their babies in the theatre, and some are required to wait until recovery. If you're unable to hold your baby in theatre, your partner can enjoy skin to skin with baby until you're ready. Speak to your medical team and let them know that you want to do this. And while we're at it, skin to skin sessions with dad can be just as beneficial as with mum.
We'd love to hear about your experiences of skin to skin.- please leave a comment and let us know.
Comments
comments