We all know the safe sleep guidelines (and in case you need reminding, you can find them below) and yet when baby becomes a little more mobile it can be harder to follow them exactly. The biggest and most common example of this is the 'back to sleep' position. This can be hard to maintain once baby can roll- so what can we do about it? Read on for some more information and advice on what to do when baby rolls onto tummy to sleep.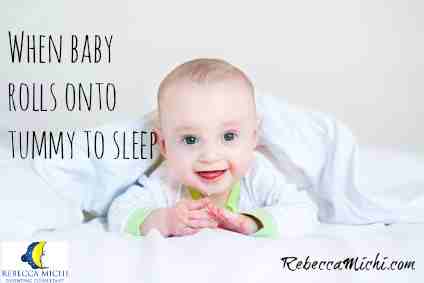 Safe sleeping guidelines
The American Academy of Paediatrics has the following advice for parents to follow to ensure they are following safe sleeping guidelines:
Always place baby on the back to sleep.
Place baby's feet to the foot of the crib, so that she cannot move down underneath blankets.
No loose bedding or toys in the crib.
Baby should sleep in a separate crib in your room for at least the first six months.
Don't let baby get too hot.
Consider using a pacifier during sleep time.
When baby rolls onto tummy during play
Always place your baby to sleep on her back for sleep- day time and night time. This is the safest position for her and studies have found a reduction in the cases of Sudden Infant Death Syndrom (SIDS) since this advice was rolled out. However, when baby hits five months or so, she may have ideas of her own!
When baby first learns to become more mobile, the first major move she will learn is to roll over. Incidentally, this is when it is best to stop swaddling too, so read my post on how to wean from the swaddle here. So when baby learns to roll, it is usually from back to front, since she spends more time on her back than her front. Tummy time is important as it helps baby to strengthen her arm and neck muscles in that position and will eventually help her to then learn how to roll back onto her back. For more information on tummy time, see this post.
Until your baby is able to roll herself back onto her back, you must be on hand to help! When she's awake and you are supervising her play, it's ok to let her spend time on her front once she's rolled there, and you can encourage her to try and roll back again. Some babies will become frustrated quite quickly and want you to roll them back again straight away, others will be happy to spend more time on their tummies. During play time, it's ok to let your baby lead the way.
When baby rolls onto her tummy during sleep
If you find that baby is starting to roll onto her tummy during sleep, you can gently move her back again onto her back. You might find that you need to do this quite a lot if she prefers to sleep on her tummy rather than her back, and with that in mind…
Accept that your baby is going to find her own preferred position for sleep, just as you have yours
Once baby is able to roll back onto her back, you might find that she adopts lots of unusual and varied positions for sleep. This is normal!
Accept that you cannot be there every minute of every sleep, and if she is sleeping on her tummy you cannot always roll her back onto her back.
Sleeping positions are just one way that you can help to prevent SIDS- make sure you are vigilant about the other safe sleeping guidelines too.
Once baby can roll over onto her tummy and is able to hold her head up in that position, she is able to position herself for safe breathing. But sometimes baby can roll onto her tummy and become frustrated at not being able to roll back again…
When baby rolls onto tummy in sleep and wakes
If your baby is rolling, and seems to get stuck on her tummy much to her dislike, there is a very good chance she will cry! At this point, by all means go in to her and roll her back again- but be prepared for her to do it again and again. The best way to combat this is with lots of tummy time practise during the day. Let her explore her own abilities, and practise rolling back onto her back again from the tummy position. And when baby rolls onto her tummy at night (assuming she isn't swaddled and is able to use her arms) give her a chance to roll back again by herself before you go in to help.
Comments
comments