During the first year of life, your baby grows at a rapid rate, making huge developmental achievements in terms of growth which are called milestones.There are some that parents look forward to- the first smile, the first time baby rolls over, the first steps. There are others that aren't so relished- the first tooth, for example (see last week's post for more information on your child's teething timeline). This week we're going to look at the developmental milestones you're likely to witness in your child, along with the average time that you should expect them. Of course, we'll discuss how sleep may be affected too. Here's a really quick guide to your baby's developmental milestones.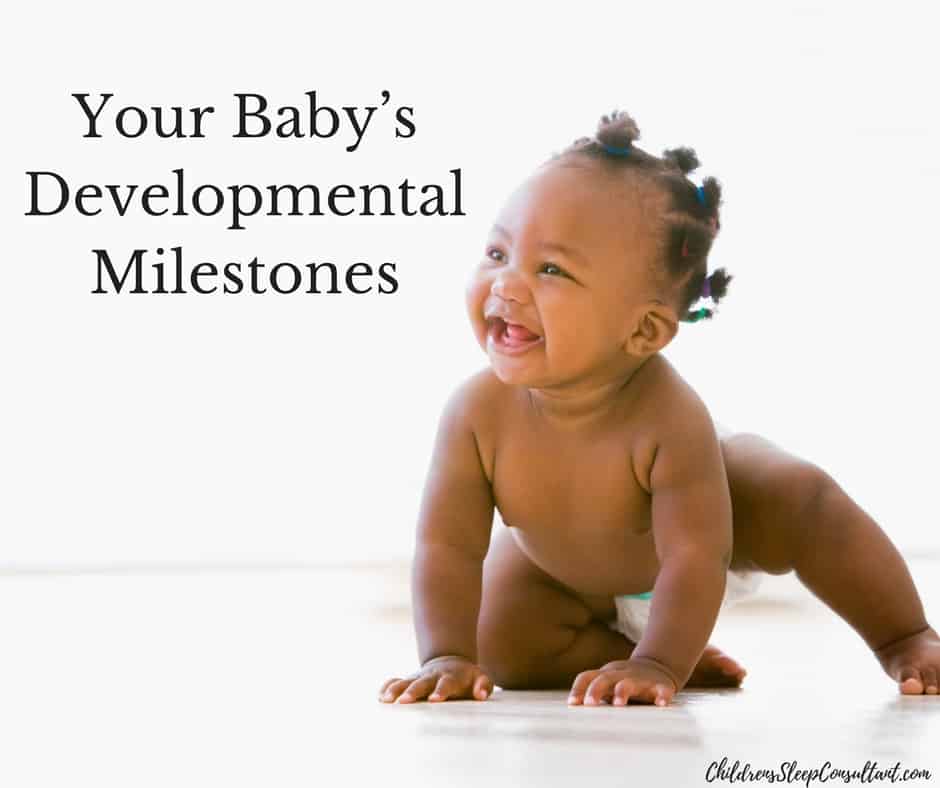 Before we get started, remember that every baby is an individual , and they all grow at different rates. Developmental milestones tend to happen within a certain age range, rather than at set age, so don't worry if your child seems to be 'out of line'. If you're concerned, speak to your doctor for advice. This post is intended to be a guide for parents; for you to use as a reference to what your baby is doing now, and what you might look forward to soon.
1 to 6 months
Life with a newborn baby can be an endless cycle of nappies, feeds and broken sleep. But all the while you're running around in a sleep deprived haze, your baby is doing amazing things! During the early weeks your baby's vision will start to improve so that she can focus on your face, although she'll still have limited focus- around 8- 12 inches. Her hearing will be fully developed, and at this stage sensory play is a fantastic way to help her learn about the world around her.
Most babies in the first month can lift their head when on the tummy, but still need lots of support.They can bring their hands to their mouth but their body will still move in jerky motions. At this age, swaddling great to help calm and soothe at sleep time, as it helps to suppress the moro reflex. Read more about swaddling here.
At around three months old, your baby will start to actively enjoy playtime. You will already be treated to lots of smiles, and your baby is suddenly very interactive! Tummy time is good at this age as your baby needs lots of practice ready for rolling over, and she'll be able to support her own head a lot better now too. Your baby's hand to eye co-ordination is improving, and you'll notice her watch you as you move around the room. At three months, lots of babies are sleeping for longer stretches, although it's not unusual for them to still be waking after two to three hours, so don't worry.
From around the age of four months, your baby will start to reach more and more developmental milestones. You'll notice her engage with the world a lot more, start babbling and be curious about literally everything. You're going to need eyes in the back of your head!
By seven months it's likely that your baby will be sitting up, rolling over, pulling up to standing, eating some solid foods and sleeping for longer stretches. Again, remember that all babies are different!
7 to 12 months
By the age of around seven months, your baby is fully engaging in her world, and probably crawling at break neck speed! She will be babbling and communicating with you to let you know what she wants- suddenly a new world has opened up! At this age, babies are more likely to experience separation anxiety, which can make bedtimes and sleep a little ore tricky than they once were. If you start sleep training at this age, a gentle approach is vital so that you can reassure and soothe your baby as she grows and develops.
By around 12 months, your baby will be either walking, or getting ready to walk by using furniture to 'cruise' around the house. Now is the time to baby proof every room if you haven't already- read this post for information. Up until around 12 months it's perfectly normal for your baby to be waking during the night- most of her nutrition will still come from milk. Don't worry if your baby seems to be waking more than others. Now is the time to start gently training your baby to sleep for longer periods, but rest assured that not every baby is sleeping through at this age!
Developmental milestones can affect how your baby sleeps as she grows- read this post for more information.
Comments
comments