During the warmer summer months it's easy to wander from the path of the normal routine and find yourself lurking amongst a more chaotic regime. For many families, this is absolutely fine! Make the most of the longer days and lighter evenings and enjoy! For others though, summer can be a trying time. Some children are more sensitive to smaller changes and can find summer a little disruptive when it comes to sleep. And since temperament affects the way that children sleep, it's little wonder that a change in routine can mean a change in sleep habits for some. This week we're looking at summer nap tips for babies and toddlers, to help keep things running smoothly.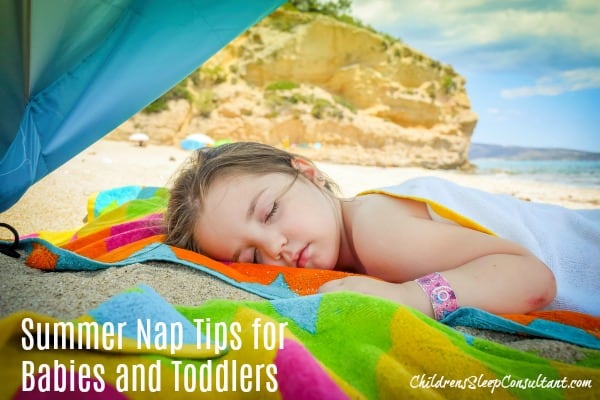 Stick to your routine
Of course, this is the number one tip and if you ignore everything else in this post, make sure this is the one thing you take away today. Your routine is so important, and especially over the summer when things are a little mixed up. If you have older kids off school or you're off work yourself it can be unsettling for babies and toddlers. Stick to your usual routine unless you really can't- and even then try to make things as 'normal' as possible. Some children are really sensitive to change so try to limit it as much as you can.
Darken the sleeping environment
The summer months are notoriously hard for parents trying to help their children to sleep. Early wake ups and late nights tend to be the main issue here, as little ones become confused about sleep time thanks to extended daylight. Black out blinds are your friends! Not only will they help to create a darkened environment for sleep, but they will help to reinforce the routine you've so carefully perfected. Don't ruin all your good work- get a black out blind fitted today.
Encourage rests throughout the day
If your baby or toddler struggles to sleep during the summer- whether it's too light, or too warm, or too disruptive- then try to encourage plenty of rest times throughout the day. Older babies and toddlers can benefit from quiet activities without the stimulation of TV or music, and often this can be just as restful as a nap. If you're out and about try to encourage rest time in the stroller.
Bring bedtime forward if you need to
Some children find the heat exhausting (and some adults too!) so if your little one is looking tired well before they usually go to bed, it won't hurt to bring bedtime forward a little. Watch your child and allow them to lead you a little. But bear in mind though that an earlier bedtime can sometimes mean an earlier wake up. Hopefully the black out blinds will help with this, but it's good to be prepared just in case!
Stay consistent
Yes, summer can be chaotic and often our routines can be hard to maintain. Just try your best to stay as consistent as you can, remember your gentle sleep training techniques and go with the flow as much as you can.
Make sure your bedtime and nap time routine is calming and restful
Just because summer is a little hectic, it doesn't mean your bedtime and nap time routines need to match. Keep everything low key, relaxed and soothing to help promote sleep.
What are your top tips for summer sleep?
Comments
comments