How did you sleep last night? If you're one of the approximately 30% of Americans who are currently sleep deprived, chances are your answer is badly. Sleep deprivation is certainly no joke, and especially if you're suffering with it. I've already highlighted the dangers of severe lack of sleep in this post,  but I thought it worth going over a few more points this week- just in case you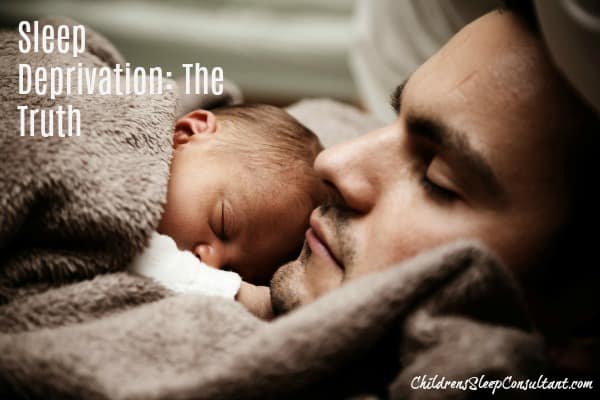 haven't yet put sleep at the top of your list of priorities. Here it is folks, Sleep Deprivation: The Truth.
Are you sleep deprived?
Are you getting less than the recommended six to eight hours sleep a night? Is your sleep broken or disturbed? Do you find it hard to fall asleep or stay asleep? You could be sleep deprived. Many parents are! And to begin with, life with a baby inevitably leads to some degree of sleep deprivation- that's to be expected. But when the lack of sleep continues well beyond the first six months or so, it's time to take some action.
Sleep deprivation is bad for your health
The many reasons why sleep deprivation is so bad for you are outlined in this post, and yet so many of us still don't prioritise sleep. Lack of sleep can have a significant impact on your health, both physically and emotionally. Don't you think it's time to make some changes?
Children can be sleep deprived too
While it's a long standing joke that babies cause sleep deprivation for parents, what isn't so funny is the prospect of a sleep deprived child. If you consider what we know about the importance of sleep in terms of restoring energy, allowing the body to refresh and regenerate, giving the brain time to develop and retain new skills- then sleep deprivation in children is certainly a serious problem.
If your child is consistently failing to get enough sleep, they will become sleep deprived, and this too can have negative effects both physically and emotionally. Here are some things you can to do make positive changes today:
Know how much sleep your child needs. It's important to start at the beginning, and knowledge is power here. You cannot expect to make changes before you know the extent of sleep deprivation that you're actually dealing with. Read this post to find out how much sleep your child needs. Then start a sleep diary so that you can record how much sleep your child actually needs.
Be mindful of awake times. Keep them to a minimum and try to encourage a consistent routine. Don't allow your child to become over tired; keep an eye on sleep cues, and act on them.
Agree an appropriate bedtime, and stick to it. It's a really good idea to make sure your little one is getting to bed at a decent time, even if it seems early to you. And make sure you have a good bedtime routine too. Read this post for more information. 
Keep sleep distractions to a minimum. Really, do whatever you need to do to make sure your little one is able to sleep uninterrupted.
Make sleep a priority for the whole family
When you consider how terrible you feel when you're sleep deprived, it can be upsetting to know that your child feels every bit as rotten as you if they're not getting enough sleep either. Make sleep a priority for the whole family so that you can improve sleep habits overall. Gently teach your child the importance of sleep to break the cycle, and lead by example. Go to bed a little earlier, take steps to rest when you feel tired and help your child to see that sleep is vital for all round health and happiness. Good luck!
Comments
comments