Now that summer is here, hands up how many of us have little ones who are struggling to sleep well all of a sudden? With rising temperatures and lighter evenings, it's little wonder sleep is a little more difficult for some- and the same goes for adults too. Tis week we're looking at ways to help. Here are my top five tips for better baby sleep in the summer.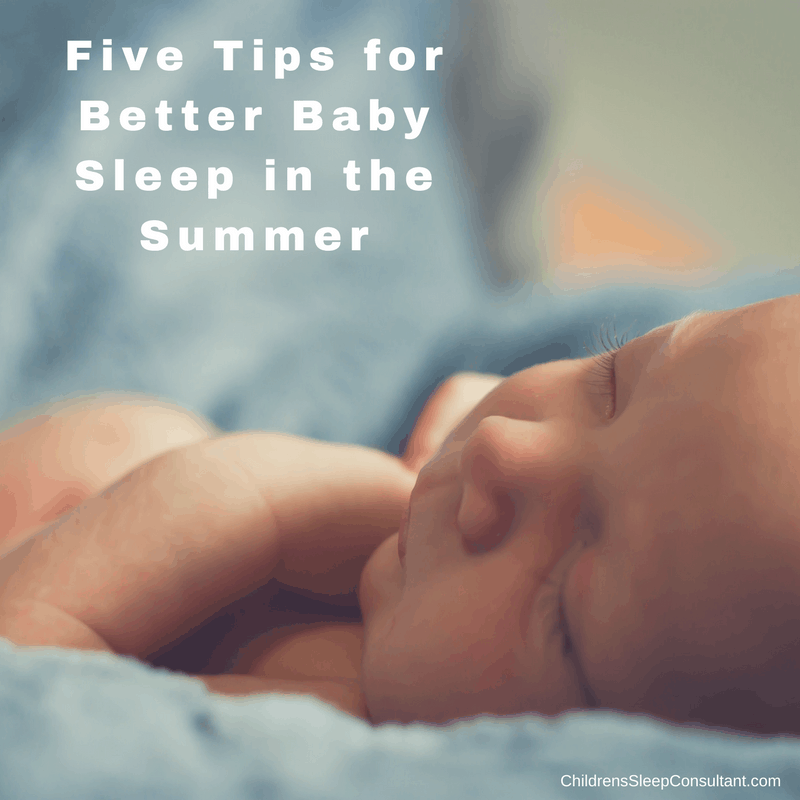 Adjust your baby's sleeping environment
The increase in temperatures during the summer months means that we need to do a regular check of the baby's room to make sure that it's comfortable and safe for sleep. Change your baby's bedding so that you're using light, breathable fabrics and if you use a sleeping bag switch to a light tog. Likewise, make sure that your baby's clothing is light and keep a check on the temperature as a guide to how many layers you need.
Keep the curtains or blinds closed during the day to minimise the amount of sunlight going through the room, and if you can create a breeze then please do. A great way to do this is by keeping as many windows open throughout the house as possible. Alternatively you can use a fan to circulate cool air, but make sure that it's nowhere near the crib and that all cords and wires are out of reach.
Blackout blinds are a MUST!
Blackout  blinds are essential- and not just for summer! With lighter evenings, there is no better way to convince your child that it's bedtime than by blocking out as much light as possible. The body needs a dim environment to be able to produce melatonin, the hormone that promotes sleep. Without it, some babies and children find it difficult to switch off and fall asleep. And for older kids, the lack of darkness makes it hard to accept that it really is night time, thus making bedtime so much more difficult! Blackout blinds can eliminate all of this and help with better sleep during the summer months, so don't delay- get some fitted today!
Drop the temperature of the bath
If a bath is part of your bedtime routine and you don't want to drop this during the summer, then try dropping the temperature instead. You don't want a cool bath, just a little less warm than usual to help your child to cool off a little at the end of the day. Younger babies cannot regulate their temperature by themselves, so a bath that is too cool is going to cause their temperature to drop too quickly, and it won't be a pleasant experience. Older children might enjoy a cooler than usual shower at the end of the day, but try to make the whole experience as relaxing as possible- sticking to your usual bedtime routine at all times.
Don't be tempted to move bedtime back a little
It's so so important to stick to your usual bedtime routine over summer, and this means keeping the same time too. It's tempting, especially if you have older kids off school and no strict timetable for the following day, but ultimately moving bedtime back can cause problems in the long run. Your child needs consistency and sticking to your usual bedtime routine is vital for this- no mater what you have on your schedule during the summer.
Stay out of the sun
As much as you can, avoid the sun during the day- especially when it's at it's hottest from around noon to 3pm. Too much exposure to the sun can be harmful for children and besides the risk of sunburn, children tend to tire more easily when they're hot and bothered. If this happens, your entire day time and night time schedule can go out of the window so easily, resulting in over tired and irritable children and a reduction in the quality of night time sleep. Of course, it can be impossible to keep the kids inside during summer, and I'm not suggesting that you do this at all. Just be mindful of the fact that too much sun isn't a great idea, and plan your activities around this. Quiet times indoors when the sun is at it's hottest is a great way to keep things on track during the summer.
Comments
comments