For many families, the early days with a newborn tend to pass by in a haze of sleep deprivation, hormones and chaos. For such a  small person, the changes are huge when a new baby arrives, and often we tend to forget just how much disruption is on the way when a pregnancy is announced. Of course, it's good disruption, but the affects can really impact on so many areas of family life. And when the baby's birth didn't exactly go to plan, there can be added stresses for families too. This week we're looking at the ways families can be affected by the birth of a baby, and sharing some tips for recovering after a traumatic birth.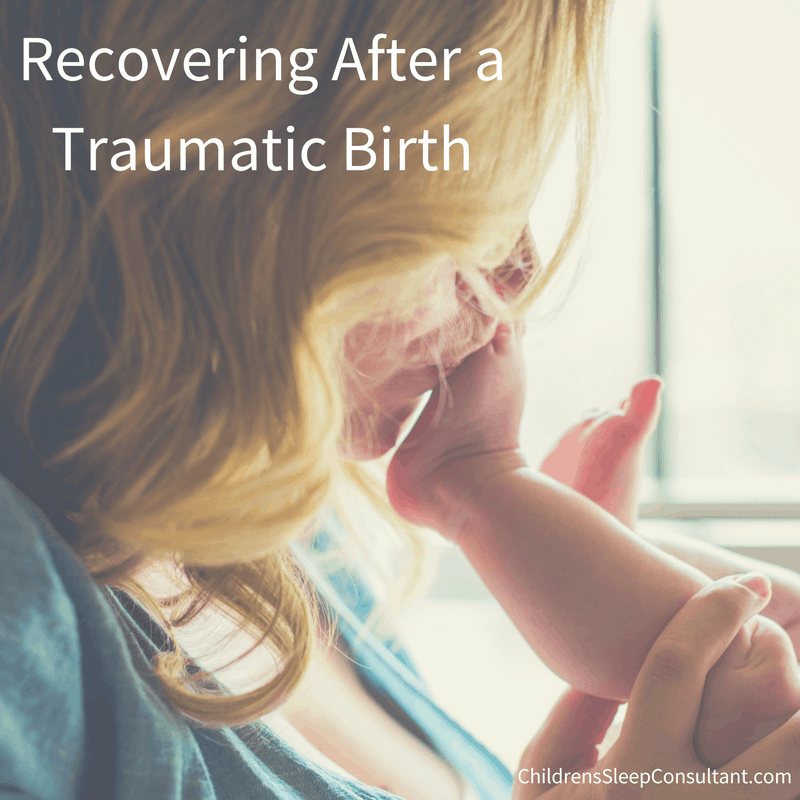 What is a traumatic birth?
There's a quote to answer this question: "Birth trauma is in the eye of the beholder." (Carol Beck). Nobody but the woman who experienced the birth can say whether it was traumatic or not. Birth trauma is usually identified if a women reports feelings of distress, but a difficult birth doesn't always have to mean a 'typically' traumatic event occurred. Sometimes if women feel out of control, frightened or a sense of powerlessness, these feelings can also contribute towards birth trauma. Women who experience these feelings during what would be considered a 'normal' birth might find it hard to speak out and to ask for help.
Speak out
It's estimated that around between 25-34% of women experience birth trauma every year, but the numbers could actually be a lot higher due to women feeling they cannot speak out about their feelings. There is still a lot of stigma surrounding birth trauma; with the view that birth is supposed to be a wonderful event, many women feel that they have somehow failed if their experience didn't live up to their expectations. Together with pressures from the perceived 'ideal' birth experiences found in magazines, online and in movies, many women feel ashamed, guilty and afraid to admit how they're feeling.
Being afraid to speak out leads to further isolation, and an escalation of issues surrounding maternal mental health, which can impact on the whole family unit. Add on top of that a mix of crazy hormones, lack of sleep and the busyness of life with a newborn and it's little wonder women can feel overwhelmed.
The effects of birth trauma
The effects of a traumatic birth vary and no two women will respond in the same way. For partners, friends and family members there are signs to look out for if a new mum is struggling to come to terms with her birth experience. She may need to talk about the birth a lot in an effort to try and make sense of what happened. She may re-live the experience through dreams and nightmares, and she may also struggle to accept what happened long after everyone else seems to have moved on.
Some women develop Post Traumatic Stress Disorder (PTSD) as a result of birth trauma, and this can not only be very different from post partum depression, but also very hard to diagnose too.
Tips for recovery
Given all of the information above, tips for recovery are always going to be individual for families and there will never be enough time or space here to be able to advise comprehensively. But there are starting points that we can give you if you feel that you or someone you know is struggling.
Talk. For women struggling to come to terms with a traumatic birth, having someone to listen without judgement is invaluable. Being able to express emotions without fear, guilt or shame can be hugely empowering. Talking is always the first step to getting help and support.
Book an appointment with your doctor. Take someone with you for support if you need to, or write down how you're feeling if you find it hard to verbalise. It's important to seek support from your doctor so that you can start on your journey towards recovery.
See a counsellor for support. Lots of women find that talking and other therapies are hugely beneficial after birth trauma and it may be that just having an outlet for your thoughts and feelings is enough to help you come to terms with what happened.
Advice for partners
It can be really hard to see a loved one suffering after what should have been a joyous event, and now is the time to really provide the support that she needs. Allow her to talk about what happened, but don't push her to open up before she's ready. Let her know that you're there when she needs you and that you are ready to listen without judgement. Be aware of her need for rest and recuperation after the birth too, and make sure that she eats and sleeps as well as is possible. You might want to talk to someone about your own feelings too, which is only natural. Birth trauma can affect the whole family and often partners are over looked, so if you're struggling too then now is the time to speak out.
Comments
comments