When it comes to toddler sleep, most parents I meet have a tale to tell. Whether it's of a toddler who suddenly needs the bathroom 300 times at bedtime, or a toddler who sleeps like a log but wakes super early every morning- it seems toddlers were designed to keep us on our toes! One of the most common concerns when it comes to toddlers is how often they like to jump into bed with parents of an evening. And this is fine- as long as it works for everyone involved. If it's more a case of wriggly toddler keeping everyone awake, then perhaps something need to be done about it! Here are my top three tips to help you to get your toddler to sleep alone at night. I hope they help!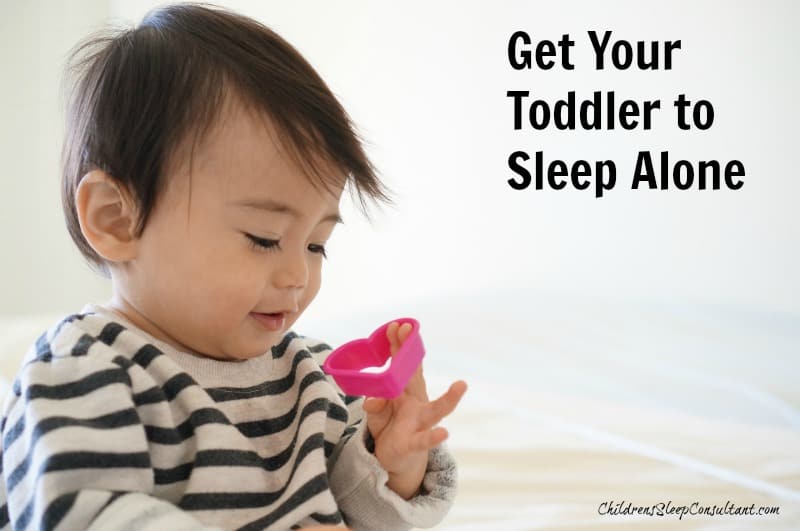 Understand why your toddler wants to sleep with you
The good thing about (most) toddlers is that you can have a conversation with them and are able to (mostly) discuss what is keeping them from wanting to stay in their own bed at night. Have this conversation. It's important to keep up the communication here so that whatever is on your toddler's mind can be discussed and dealt with. Your toddler needs to know they can talk to you too, so stay open and don't be tempted to get cross or use punishments when they appear at your bedside yet again.
Some toddlers might need a little more reassurance than others when it comes to dealing with the issues that are keeping them from staying in their own bed. For example, it might be that your toddler is afraid of the dark and even setting up a night light in their bedroom won't convince them otherwise. It might be a longer, more drawn out solution to get them to understand that the dark is ok and nothing to be afraid of- so stay patient.
Once you have a better understanding of why your toddler is waking and wanting to sleep in with you, you're in a much better position to deal with it and come up with a solution that suits everyone. Remember not to take light of whatever it is that your toddler is taking issue with. This is important enough to disturb sleep, so take it seriously and let your toddler know that you are on their side.
Assess your whole routine
And this goes for your entire day, not just your bedtime routine. If you can, through the day joy down any issues or upsets that have occurred that might be a reason for your toddler to need some company through the night. Was your day particularly stressful? Are there any big changes going on that might upset your child? A house move, a new baby, or a change of day care perhaps? Any changes, no matter how small, can be a huge deal for toddlers and can have a huge impact on night time sleep too.  It might help to talk about bedtime throughout the day, rather than at bedtime too. This way your toddler doesn't have to face the immediate prospect of sleep and they might be more open to new ideas overall.
It's also worth assessing your routine in the run up to bedtime. It is calm? It your toddler relaxed? What changes can you make to ensure that bedtime is peaceful and leads on nicely to sleep? And how does it go when your toddler wakes up and wants to come in with you? Do you express frustration or anger? Do you try gentle soothing methods, or do you give in immediately in the hopes of a little more sleep?
Make the morning after positive
Whether your toddler ended up in your bed or not, make sure the next morning is positive. If your toddler stayed in their own bed, make sure you praise them and tell them you're pleased etc. Try not to go overboard on this, after all staying in their own bed is a normal thing to do and should be treated as such. If your toddler didn't stay in their own bed, it's important to remain positive still. Don't tell them you're disappointed etc. Instead, gently remind them that staying in their own bed is important for everyone to be able to feel rested and have energy to play together.
Give your toddler plenty of opportunities to play in their bedroom throughout the day, and let them help to make their bed and arrange their toys how they like them etc. All of this allows them to feel ownership of their bedroom and will help them to feel safe and relaxed in there too. Talk about the reasons why they should want to sleep in their bedroom and remain positive and patient at all times. Your toddler will get there, eventually, and taking a gentle approach will help them to feel confident and secure enough to establish healthy sleep habits for life.
Comments
comments