There can be no denying that a new baby has the tendency to turn a household upside down, and when you're a toddler the changes can feel huge. As a parent, the prospect of juggling a toddler and a newborn can be daunting too, so this week we're looking at tips for adapting your toddler's routine when a new baby arrives. Hopefully this post will help answer any questions you might have, but do let me know if you have an issue I don't manage to address. You can comment on this post, or grab me on Facebook, Twitter or even Instagram.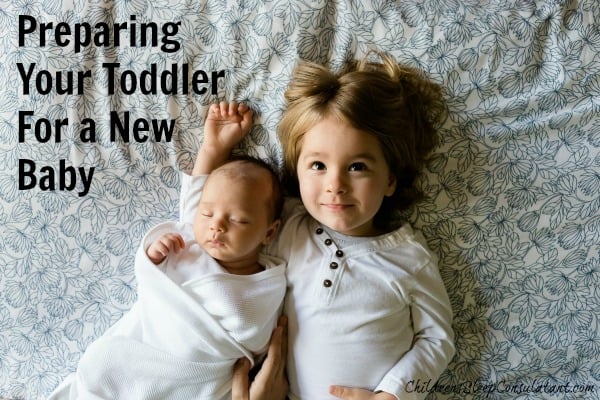 Prepare your toddler for the changes ahead
Lots of families prefer to only tell their toddler that a new baby is on the way when the pregnancy is well advanced, to limit the number of weeks spent answering the 'when is baby coming?' question over and over. However, there is a lot to be said for preparing your toddler in good time. Human beings are creatures of habit, and for toddlers it's very important to remember that even small changes can be very disruptive. You know your child best, and if you think that they will need as much time as possible to prepare then that's what you should do. Likewise, if you feel your toddler will adapt to the news easily, it can work well keeping the announcement under wraps for the time being.
The most important thing to remember is that there are changes imminent, and your toddler's routine is going to need a little tweaking when the baby arrives. You can prepare your toddler for this in practical ways without revealing the big news too. For example, you might need to switch rooms once the baby arrives so that you have a dedicated nursery, or so that your toddler has a bigger space to play in. If this is the case, it makes sense to make the move well before the baby arrives so that any teething problems can be ironed out in good time.
Keep your toddler involved 
Once your toddler is aware of the changes that are on the way, it's a good idea to spend time talking things through and answering all the questions thrown your way. Keep your toddler involved as much as possible so that the transition to older sibling is as easy as possible. Whether or not this is an easy task will depend on your child! The important thing is to keep the communication going and to take any concerns seriously so that your toddler feels their thoughts and feelings are being considered.
Plan some special time before baby arrives
… and keep this up (if you can) when baby is here too. Let your toddler enjoy a little one to one time with you so that you can chat about things that might be on their mind, but also so that you can have some quality time together. And when baby arrives, if this is something you can manage to do again then great!
Allow your toddler to help as much as possible
Your toddler is a naturally curious little thing and with any luck the new baby will pique their interest somewhat! It's a good idea to encourage this, and find small tasks that they can help with. As you work together to take care of the baby, your toddler will feel more included and will maintain a sense of their own position in the family, albeit a slightly different one now. It will also help with important sibling bonding too.
SaveSave
Comments
comments