The 10 Days to Better Naps course has been running for a few weeks now, so It thought I'd take this opportunity to give you a little more information about it, in case you were wondering whether or not it's the course for you. Chances are, if you're thinking about making some changes, or hoping to get some answers to you 'nap woes' then you're already half way there! Hopefully this week's post can help. Here are three things you need to know about the 10 days to better naps course- do let me know in the comments if there are any questions I haven't answered here.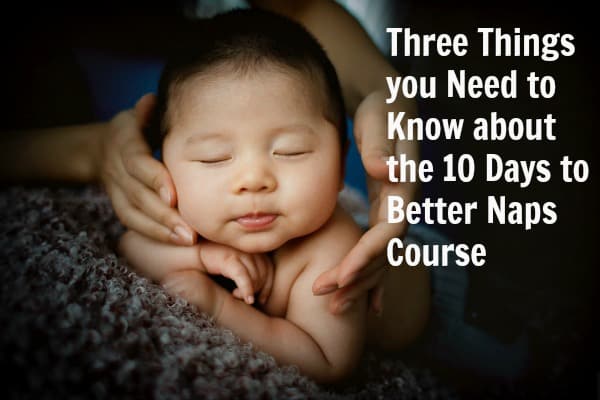 What is the aim of the course?
The aim of the course is simple. We want to help you to work on getting your child to nap better during the day. A child who sleeps well thought the day is more likely to sleep well at night, and often daytime sleep can be more of an issue for some families. So many families contact me with concerns over how much their child should be napping, how many naps they should be taking, when to make the transition from two to one naps… the list goes on. Hopefully, the course will help you to better understand your baby's nap needs and how to help your child to achieve them. As with the Michi Method, the 10 days to better naps course will not require you to let your child 'cry it out' and we won't ever expect you to do anything you're not 100% happy about.
When it comes to understanding your baby's nap needs, it's important to know what's normal when it comes to daytime sleep. Newborn babies sleep a lot, mostly waking just to feed before going back to sleep again. Sometimes it can be tricky even keeping them awake long enough for a feed! As your child grows, the amount of time spent awake (and being entertained!) increases, and from the age of around 12 weeks a huge shift in your baby's sleep patterns occurs. Babies will go from having infant sleep cycles, to adult sleep cycles and this means that their sleep patterns in general begin to change. This is the point at which parents tend to notice something is going on! Throughout the course we'll chat about this and advise you on what is normal for your baby at their age, so that you can be reassured and empowered to take action to help.
What support is provided?
The course is short- just ten days, as the name suggests- and the reason for this is that even though it may seem like an impossible task, it's actually quite straight forward to implement changes that can help your baby to nap better.
Every other day you will receive an email with a video and some downloads that you will need to download for use. Do take a few minutes to watch the videos (they're not long) and to download the documents as they will really help you.
You will also have access to a Facebook group, and this is where you are free to post updates, ask questions and provide support to other parents too. So although the course itself is just ten days long, the support you receive will go on for as long as you need it. Unfortunately I am unable to answer all questions posted in the group, but to be honest I don't need to. The group is a wonderful community that has evolved since the course started, and so if you have had experience of something that another member is querying, do jump in with whatever helped you out at the time. You will most definitely have the favor returned.
How will the course help me specifically?
When I work with families, I usually take the time to get to know the family and ask as many questions as I can about their child's sleep patterns so that I can work with them to create a plan tailored for them. As this is an online course, I can't do that- but that doesn't mean the advice you get won't be suitable for you. Thought the ten days you will get to know more about your baby's sleep needs by understanding not only what it normal for babies when it comes to naps, but also what is not normal. We also look at day time routines and chat about ways to make sure your schedule is working for you too. We'll go through lots of different scenarios but don't forget the group is there for you too. If you feel your questions aren't being answered, speak up so that we can help. For example, if your baby takes short naps and you'd like them to be longer, we'll be working on that so there's a really good chance the course is for you. Stick with us for the ten days and use the group for as long as you need, until your child is napping better and you are sitting with your feet up and a hot cup of coffee!
You can sign up for the 10 Days to Better Naps Course HERE.
Comments
comments