For centuries families have relied on advice passed down from generation to generation on a huge number of things, and raising babies is one of them. Chances are, when you were expecting you were given many tit-bits of information and advice to guide you through- whether they were helpful or not is another matter! The point is that we humans need that interaction, support and guidance to help us build confidence and to feel empowered in our daily endeavours. And when it comes to raising a baby, nobody is born knowing it all. We learn from our parents, grandparents, friends and communities. We then pass that knowledge on ourselves, because we want to help and because we know how valuable learned advice can be. With this in mind, I'd like to share with you three newborn sleep tips you need to pass on. I promise it will make you feel good, and that friend who just had a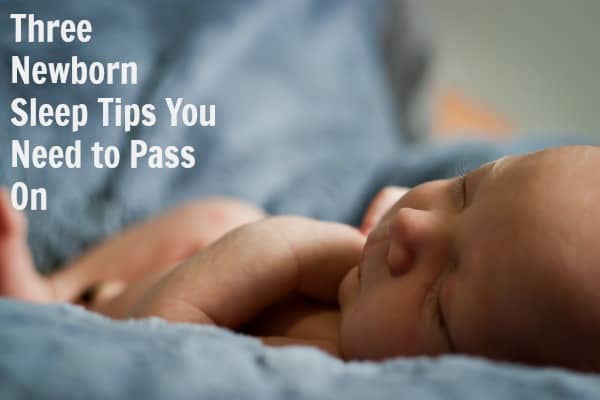 baby will really appreciate it too.
Newborn babies do NOT need a daytime routine…
So many books and websites and well meaning friends will tell you that routine is the most important thing when it comes to babies and sleep. I do it myself! A good, solid routine really is vital if you want your child to develop good sleep habits that last. BUT newborn babies are totally different.
Newborn babies have different needs to older babies and children, and for one their sleep cycles are completely different too. They will wake at least every 2-4 hours to feed, and sometimes they will wake more frequently or sleep for a little longer. Your guess is as good as mine! Trying to get a newborn baby into a routine for this reason alone is futile. And let's also consider the fact that your newborn baby is changing so rapidly during the first 12 weeks of life too. One day she may wake at 7 and you might think that could be a wake up time the whole family could get on board with… and then the next morning she may wake at 5. Or 8. There is no real pattern for most newborn babies, so don't stress over it. Sleep evolves as your bay grows and trying to get your newborn into a routine will only end in tears.
You don't need to whisper while your newborn is sleeping… honest!
So many families walk on egg shells while their newborn is sleeping. It's human nature! A sleeping baby is so peaceful, it makes you want to whisper and creep around the room like a ninja. But there's really no need! Of course, if you enjoy the peace and quiet then go for it, but if you have a house full of noisy people then please don't waste time stressing about trying to get them to keep quiet.
The reason why you don't need to whisper around your newborn is simple. The whole time that your baby what in utero, the sound was almost deafening. There were constant swooshes, wooshes and beats to keep her company. And don't forget she could also hear everything that was going on in the outside world too. So actually, newborn babies are comforted by a bit of noise- this is why white noise can be amazing at soothing your baby to sleep in the first place. Newborn babies love constant, rhythmic noises so relax and enjoy a little chaos now and then. This is also going to help your newborn to settle into a day and night rhythm too.
Your Newborn baby isn't the same as everyone else's newborn baby
Each and every one of us is an individual, with individual needs and individual temperaments. And even newborn baby sleep is affected by all of these things. Right from the moment she is born, your baby has her own personality, and this is going to have an impact on how she sleeps. So if you do read the books and scour the website for advice and information, it's worth keeping in mind the fact that YOU know your baby best, so by all means take the advice, but don't sweat it if your baby doesn't fit into a certain box.
Comments
comments