Over on my Facebook page I regularly hold live sessions where I answer some sleepy questions, or I share a few sleep tips on various topics. Recently I did a video on how to transition from the swaddle, and thought I'd write it up a blog post too. Swaddling is fantastic for young babies as it helps to make them feel safe and secure, and represses the state reflex, which combined helps them to sleep a lot better in the early days. However, when your baby starts to roll, the swaddle is no longer a safe sleep option, which means it's time to make that transition. Here's how to do it.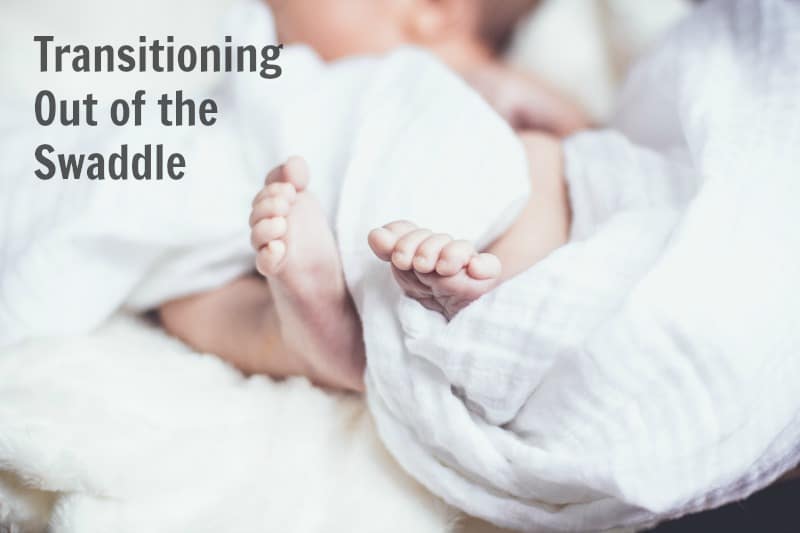 When to transition from the swaddle
If your baby is confidently and comfortably rolling from their back to their front, it's time to start the transition. This usually happens a little later than rolling from front to back as it's a little harder for babies to master. However, when your baby is rolling from front to back, you can pretty much guarantee that the next step is rolling from back to front, so it's a good idea to start the transition process so you're ready when it does happen. The reason for this is that we don't want baby to be able to roll from back to front whilst swaddled, because of course the arms will be restricted and baby won't be able to roll back again.
For most babies, around the age of four months is the age where we tend to transition from the swaddle, but as you already know every baby is different so for some it can be sooner or later than that. Watch your baby, and allow them to lead you on this too.
What's the best way to transition from the swaddle?
When it comes to which method you want to use for transitioning from the swaddle, a lot depends on what you're using, and how your baby is swaddled. Babies who aren't swaddled with their arms pinned to the sides will transition a lot more easily in general, because its often the releasing of the arms that takes the most getting used to. A good tip here is that if you do use a swaddle that holds the arms to the sides, your first step can be to transition to a swaddle that allows the arms to be free. You can use either a receiving blanket or sheet, or a swaddle specifically made for this purpose.
When your child is comfortable with arms either up or by the chest, you can move on to the next step. How quickly you transition to this stage will vary, and only you will know your baby will respond to having one arm free. If you're using a blanket it's a lot easier to leave one arm out when you swaddle your baby, and there are some transition swaddles on the market too, so have a look and see what's going to work best for you. Try this for three nights, then move on to both arms out.
Sleep is going to be different!
Yes, your baby might find this a challenge, because sleep is going to feel a little different for a while. Expect some sleep disturbance as you start making the transition, and use your gentle sleep training techniques to guide your baby back to sleep when she wakes. Remember that transitioning from the swaddle is necessary for your baby's safety so it's not something that you can put off because you don't want your baby to wake. You can ride it out, it won't last forever. Remember also that any changes are going to be difficult at first, but that doesn't mean they aren't a good idea. Your child will adjust and within three or four days sleep should return to normal.
What you can do to ease the transition
Stay calm! Remember that any sleep disturbances won't last forever and you are doing this for a very good reason. Your baby might need you to go in and hold her arm down if she's finding it hard to keep still. Your baby might need you to rock, sing, sway or soothe her in other ways. That's fine. Go with it and rest assured it will soon pass. Try not to 'over help' in this situation though. Start off with a small action to soothe, and move on to more if your baby needs it. But keep it to a minimum so that you don't create a new habit. It's important that your baby learns how to settle to sleep independent here, with confidence that you're there if she needs you.
How long will the transition take?
Usually around three to four nights. That's it. It's not really a long and drawn out process, unless you feel your baby needs a little longer between arms etc. This transition isn't always easy, but it is always worth it.
Comments
comments