Did you know that Friday 17th March is World Sleep Day? Its a global initiative to encourage us all to take stock of our own sleep habits and to make a pledge to do more to nurture better sleep health for all. Well, I like the sound of that! I've worked with so many families over the years, and I always always make it a point to ensure I view the whole family as a unit. Yes, it may be baby that needs a little coaching to develop better sleep habits, but the rest of the family are just as important. It's imperative that sleep is a priority for you all, and so I've put together three ways you can celebrate World Sleep Day this year. Remember- sleep is for us ALL!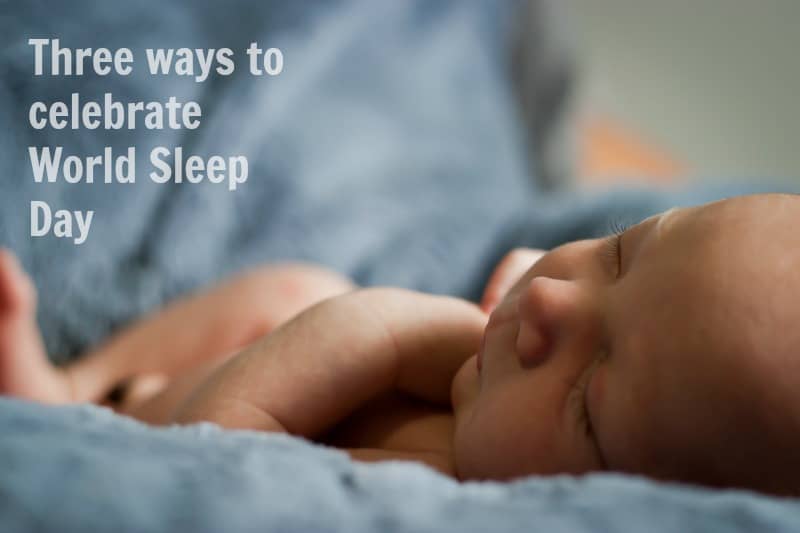 What is World Sleep Day exactly?
It helps to know what and why you're celebrating, right? And just why World Sleep Day is so important too. The organisers describe it thus:
World Sleep Day is an annual event, intended to be a celebration of sleep and a call to action on important issues related to sleep, including medicine, education, social aspects and driving. It is organized by the World Sleep Day Committee of World Sleep Society (founded by WASM and WSF) and aims to lessen the burden of sleep problems on society through better prevention and management of sleep disorders. As of 2016, World Sleep Day had a total of 394 delegates in 72 countries around the globe.
World Sleep Day intends to help people around the globe to understand why sleep is so important for our health, and why it's vital to make some changes now. Too many of us simply don't place enough importance on a good night's sleep- but that can have such lasting effects on your life. The same goes for kids too. Lack of sleep can lead to weight gain, irritability, lack of co-ordination, lapses in concentration…. the list goes on, and it doesn't get any better.
So what can we do? Here are my top three tips for making some changes NOW.
Make your child's sleep non negotiable. What I mean by this, is don't settle for an 'ok' bedtime routine. Don't settle for 'at least a few hours' sleep before they wake and disturb the rest of the family. Don't settle for 'he's just a bad sleeper'. Yes, some children are 'better' sleepers than others, but there is no need for them to be a 'bad sleeper'. We all need to strive for the best night's sleep for us. And since we all have individual needs, this can mean different things for different people. But if your children are waking up cranky and tired, it's clear that however much sleep they're currently getting, it's not enough! Time for some ground rules:
Make sure your bedtime routine is tight. Set the scene for bedtime and make sure that the whole family follows it. Don't be tempted to throw it off at the weekends either- consistency is key, right from the very start.
Make sure your child has a healthy diet. Some sugary foods can seriously hinder your child's ability to fall asleep at night, so make sure you cut them out before bedtime.
Stay away from screens! This is a huge one. The blue light from ipads and televisions can inhibit the body's ability to produce melatonin, which means your child is going to find it hard to fall asleep. Keep the screens out of the bedroom.
Make sure your child's room is comfortable for sleep.
2. Sort your own sleep habits too. How many of us nap when baby naps? How many of us decide to stay up late to watch a movie long after the kids have retired? Yes, ok- we adults need our down time, but look at it this way. If you know that your little one is going to be up at 6am no matter what, is it really wise to stay up past midnight watching TV? And while we're at it, the no screen rule goes for us too. Studies have found that screens in the bedroom seriously disturb our sleep, so leave them downstairs when you do go up for the night.
3. Clear your calendar for a while. We all lead busy lives, and if we're struggling to find the time to sleep something has to give. If we stay up late because there aren't enough hours in the day to have an early night now and then, we're going to burn out. So have a think about how you can clear your calendar a little. This will give you some breathing space to think about strategies for helping your child to sleep better, and will also lead to some improvements in your own sleep habits too. Remember, the whole family is affected by a baby doesn't sleep well.
How will you be celebrating World Sleep Day this year?
Comments
comments