Toddlers can be tricky little things, can't they? Independent, feisty, strong willed… we wouldn't have them any other way, right? But the only problem is that while they are all of these things, which are great, they don't always turn off those parts of their nature at bed time. Sigh. Most parents of toddlers will tell you that there have been issues with sleep at some point, simply because their toddler is a toddler. So what can you do about this? While it's totally normal for your toddler to want to fight back against certain aspects of life, it can be frustrating when this is sleep! Here are the top five posts I've written on toddler sleep- hopefully your questions can be answered today, and if not please do leave me a comment with a question and I'll do my best to help.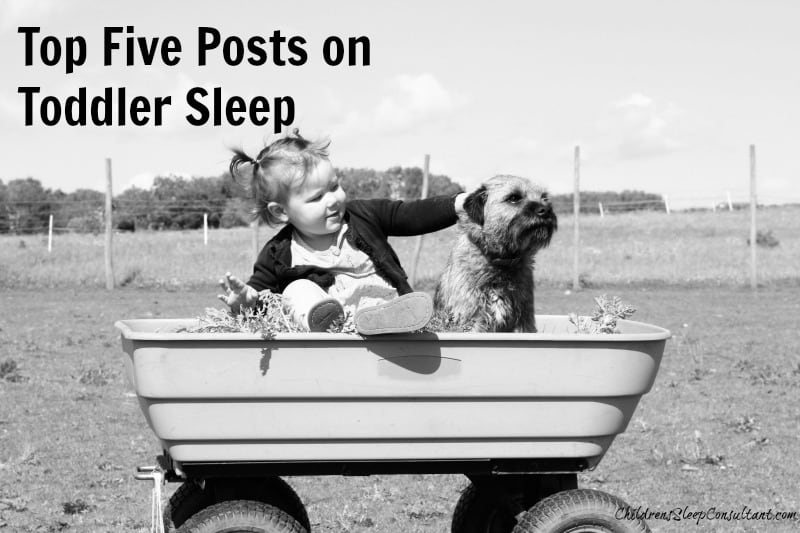 Toddler sleep: dealing with nap refusals
Ah, nap refusals are hard work! Day time sleep is precious when you have a toddler around the house (YOU need to re-charge your batteries too, most days) and vital for a good night's sleep too. Read this post if you need a little help understanding what's happening, and what you can do about it.
I've said it before and I will say it again and again. Routine is essential for good sleep, and never more so than when it comes to toddlers! A good day time routine is important, and a good bedtime routine is essential. Read this post for more information on why, and what you can do to make sure yours is in tip top condition.
Toddler sleep: waking in the night
Sigh. It's not just babies who wake in the night, as many parents of toddlers will tell you. If your mini one is still waking, or has just started waking, please rest assured that you're not alone. Read this post to find out what's going on and what you can do to fix any issues you have.
Gentle sleep training for toddlers
I firmly believe that gentle sleep training is the only kind of sleep training you need for your child, no matter what their age. The Michi Method uses gentle sleep training techniques that are tailored to your family and your family's needs, putting you and your child at the centre always. If you want to know more about my methods, and how gentle sleep training can benefit your toddler, read this post.
Three common toddler sleep problems and how to solve them
The title says it all really! Hopefully this post will solve the sleep issue you're facing right now- if not, do let me know in the comments.
Comments
comments