I get a lot of families asking about naps Day time sleep is probably one of the most fraught areas for most- which is surprising as when you think about baby sleep issues, you immediately think of night time sleep. Sleepless nights and bedtime battles are nothing compared to the issues that can arise from naps, or lack of them. So today I've compiled a list of the five most commonly searched for and viewed posts on naps. I hope you find it helpful!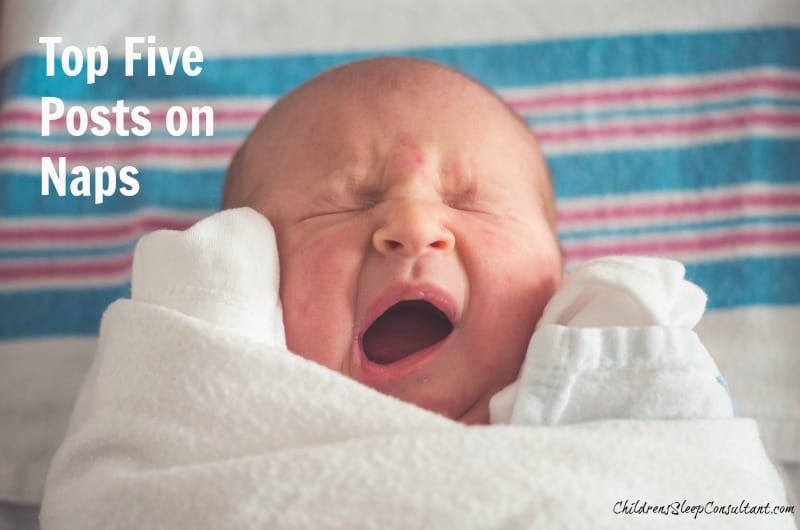 Why are naps such an issue for so many?
Before I tell you which posts have been consistently popular in the world of naps, let's take a look at why so many families might be struggling with day time sleep. Quite simply, day time sleep can be a lot harder to achieve, making naps a lot more difficult than you'd expect.
If you put yourself in your little one's shoes for a moment, think about how easy it would be for you to fall asleep during the day time. I know a lot of us are exhausted enough, but when it comes to it, it's not always that easy to just close your eyes and drift to sleep. It can be the same for babies too. For one, it's daylight outside. For another, there are more noises and distractions to either hinder sleep, or disturb it. And as they get older, babies like to know what's going on around them, so they might appear (and genuinely be) tired, but they don't want to miss out on the action by sleeping.
Other reasons why your baby might struggle with naps are covered in the posts below, hopefully your issue will be answered somewhere- and if it isn't do please leave a comment so that I can help
Short naps and what to do about them
Oh, short naps! Sometimes, these are worse than no naps at all! If your baby is napping for around twenty minutes or so, and waking more tired and grumpy than before, then read this post to find out what you can do, and why it's happening.
Toddlers: dealing with nap refusals
Ah, toddlers. They're independent little things, aren't they? But sometimes, we parents still know best- and when it comes to naps we're usually right! If you have a little nap fighter on your hands, read this post to find out what you can do.
Planning a trip away soon? Don't let naps be an issue. Read this post for tips on better daytime sleep while you're away from home.
It's never easy when your baby decides that just the one nap will do from now on, thank you. For one, you lose some precious time during the day during which your child was sleeping and you were doing other things! For another, it can mean a huge adjustment of the rest of the day too. If this is you right now, read this post to find out how to make it as painless as possible.
How your baby's naps affect night time sleep
If ever there was any doubt about the importance of naps- then please read this post. Day time sleep is so vital for a good night's sleep, and the sooner you get your naps under control, the sooner your baby will be sleeping better at night. This post explains why and what you can do to get back on track.
Still struggling with naps? You can always join my 10 Days to Better Naps Free Mini Course.
Just add your name and email address below and you will receive an email every other day with tips and tricks for lengthening out those short naps.
Comments
comments