Ah, Christmas! Time for rest, relaxation and respite. Wait, no. Not if you have kids, right? Especially not if you have toddlers who like to wake super early, more so when they're excited. Unfortunately, there is nothing worse than the promise of a sleep in destroyed by a wide awake toddler who just has to get up RIGHT NOW! But all is not lost. There are steps that you can take to reduce the early mornings and restore calm to your Christmas. Read my top three tips now…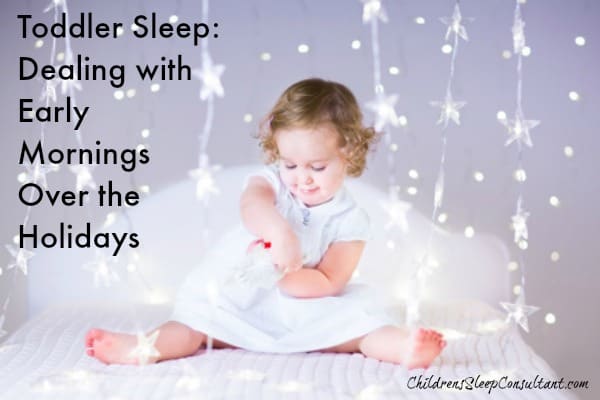 Stick to your routine
This is so, so important, and if you take one thing away from this blog post then let this be it. Routine is key. Without a good routine, you cannot achieve anything even closely resembling a good night's sleep or a decent morning wake up time, especially with the chaos of Christmas looming. So believe me, now is the time to make sure you are sticking to your routine like glue.
As always though, allow some room for flexibility. Things are going to be a little different around this time of year, and that's only natural. So yes, nap time may be a little later than usual- but try to make sure its not too late. And whatever you do, don't be tempted to skip it altogether, in the hopes of getting your toddler to bed earlier. It just doesn't happen like that! An over tired toddler is going to find it even harder to settle for sleep at bedtime, and is more likely to wake early too. And then spend the following day tired and grumpy. The last thing you need!
My top three tips for maintaining your routine over Christmas:
Watch out for sleep cues. Sometimes over busy periods such as the holidays, toddlers can become tired earlier, and more easily. So if she looks as though she needs a nap a little earlier than usual then go with the flow and adjust the rest of the day accordingly.
Plan your day around nap time, or with nap time in mind. Good day time sleep leads to good night time sleep, which in turns leads to a better wake up time- so make sure you keep naps in mind all day.
If you're going away over the holidays, plan your travel around nap times and bedtime. Trust me, its easier to travel during sleep times if you can!
Get outdoors as much as you can
Yes, it's cold. But that fresh air works wonders for toddlers! Get them outside, breathing in the fresh air and moving around, so that the body can begin preparations for the night's sleep. This will also help little ones to burn all that excess excited energy too!
Studies have found that being outside increases the body's levels of endorphins, the hormones that make us feel happy. It also helps to get the blood flowing and increases oxygen levels too so make sure you join the kids for a run around yourself!
Avoid sugary foods
Christmas is certainly a time of temptation when it comes to sugary,processed foods- but these are probably the worst things your little ones could be eating right now. Everything that your toddler consumes throughout the day can have an effect on her night time sleep habits, and that in turn can affect wake up times in the morning too. If she's filling up on sugary foods, chances are she'll find it hard to switch off at bedtime. This, as you probably already know, results in an over tired toddler who cannot get to sleep and is more likely to wake up early too.
It can be hard to monitor what your toddler eats over the Christmas period, but it might be a good idea to speak to other adults and care givers to make sure they check with you before they buy edible gifts or tempt your little one with a treat. Remember that everything in moderation is absolutely fine, but anything laden with sugar needs to be off the menu from lunchtime onwards if you want to get a better night's sleep.
A final word…
Christmas is exciting! There's a really good chance that your toddler is going to be up early over the holidays because she is just plain excited! If you do all that you can- maintain a good routine, make sure she is busy enough with enough fresh air during the day and eating a healthy, balanced diet- yet she still wakes early…. then it might be time to simply accept the situation. Some children are naturally early risers and sometimes this means we as adults need to adjust our own schedules a little. A few early nights won't hurt you right now, with all the busyness of Christmas approaching, so now might be a good time to invest in your own sleep too. Get a few extra hours of sleep under your own belt so that you're ready and fighting fit for the big day. Good luck!
Comments
comments