Now that the festive season is almost upon us, hands up who's starting to feel more than a little frazzled around the edges? There's the gift shopping, the grocery shopping, the endless visits and the Christmas shows… where does it all end? Usually with a disturbed night's sleep all round, in most cases. Now think about how your baby sleeps during this time. Chances are that if you're struggling to get to sleep right now, your baby might be facing the same issues. Here are my top night time sleep tips for the holidays.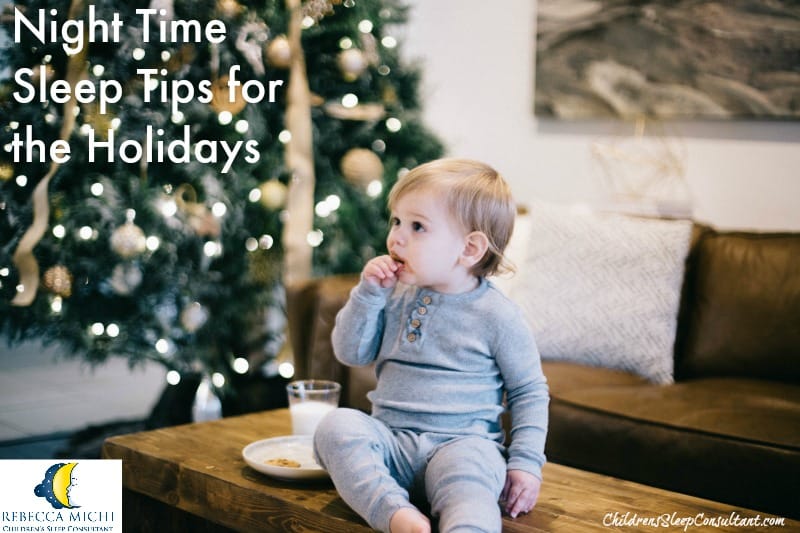 Christmas can be disturbing
When it comes to night time sleep, Christmas is one major cause for disturbance. There is just so much going on! All the lights, all the music, the different foods, the busier schedules and the later nights. All of this can add up to broken sleep, shattered sleep patters and tired babies. But it doesn't have to be that way! Read on to find out how you can make this festive season a restful season.
Make sleep your number one priority
If sleep is not your number one priority right now, then make a change so that it is. As already mentioned, Christmas can play havoc with anyone's sleep habits, but when it comes to babies the consequences can be far reaching for the whole family. When you make sleep a priority, you will find it easier to overcome any blips in your baby's routine a lot quicker. Ways that you can do this:
Stick to your routine like glue. Yes, its Christmas but you can still make sure your baby has a routine that works. The key is to be flexible enough to accommodate the extra visits and later nights, but also you need to keep in mind how important it is to keep to that routine as much as possible
Don't be tempted to skip naps. Read my previous posts to find out why! Good day time sleep will help to promote good night time sleep, so don't be tempted to keep baby awake for longer during the day in hope of an earlier bedtime. It just doesn't work!
Don't have too many late nights. This goes for you, too! Christmas is a busy time for us all and if you're not getting enough sleep at night time it's going to take it's toll.
For older kids
When it comes to older kids, sleep is a whole different ball game over Christmas. As soon as they become aware of what's happening, excitement can take over big time! Try to keep your little ones as busy as possible during the day, but don't cram in so much that they become over tired and find it hard to fall asleep. Remember that all the lights, sounds and foods can have an effect on older kids to so try to limit all of this as much as you can. Especially stay away from sugary foods and drinks close to bedtime!
Keep bedtime calm
Above all else, bedtime should be a relaxing and quiet time. Plan time for quiet activities and stick to your bedtime routine as much as you can. It's not always easy, especially if you're away from home but it's important to try. Keep lights dim, sounds to a minimum and stimulation as low as possible. Good luck!
Comments
comments