Ah, the holidays are upon us at last! I get so many questions from mums to be and new mums, focusing on newborn sleep and the holidays- so I thought a post would be a good idea to try and answer as many questions as I can. So here are my newborn sleep tips for the holidays.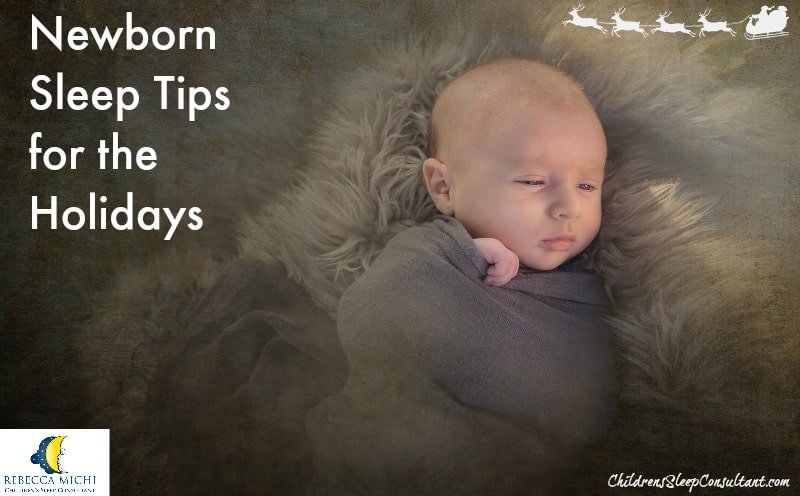 Understanding newborn sleep patterns
First of all, lets look at newborn sleep patterns so that we have a clearer idea of what we're potentially dealing with over the holidays. A newborn baby's sleep patterns are so very different to our own. They tend to sleep on average for 16 hours a day, usually  more or less split equally between day and night. Babies this young have no concept of day and night and this isn't going to change over Christmas, sadly. So with this in mind, expect your festive season to be a little different this year. Read more on newborn sleep patterns in this post.
Because your newborn baby isn't likely to stick to the same routine as you over Christmas, you'll need to adjust things a little. Don't try and plan in too many visits and be mindful of the need for frequent feeds and rest too. Perhaps the Christmas parties will have to be postponed to next year? It's up to you, of course, but newborn babies can be a lot of work so take steps to take care of yourself too.
Tricks to soothe your newborn
Let's face it, a new baby at Christmas is exciting for everyone! Alongside the usual family visits that take place over the festive season, you might need to expect a few additional visitors desperate to see you and the baby too. The best thing to do here is to schedule the visits around rest times, if you can, and spread them out over the whole holiday season so that you limit the number of times your baby is passed from person to person in one day. Some other tips to soothe your newborn:
Swaddle. Read this post on the reasons why it's so great for newborn babies.
White noise. Newborns respond really well to white noise, and it might be a good idea to use it to drown out the sound of all those visitors this Christmas! Read more about it here.
Babywearing. Sometimes holding your baby close is all she needs to feel comforted and safe, and this can be all the more important with so much going on. Read more about babywearing in this post.
Take your cues from your baby
At the end of the day, you know your baby better than anyone, and if there's just too much going on then you might want to re-assess your festivities. Some babies are more sensitive than others and if you think that she isn't coping with everything then don't be afraid to start saying no and scaling down the fun. The newborn period is intense, but it doesn't last forever and before you know it you'll be partying with the rest of them! Good luck!
Comments
comments