If you ask parents what they would most like for Christmas, many will reply with "A good night's sleep", before admonishing the idea as utterly ridiculous and requesting something seemingly more tangible. A unicorn perhaps. Yet, as we know, a good night's sleep really can be waiting for you under the tree this festive season. But let's start with naps, shall we? Here are my top nap tips for the holidays.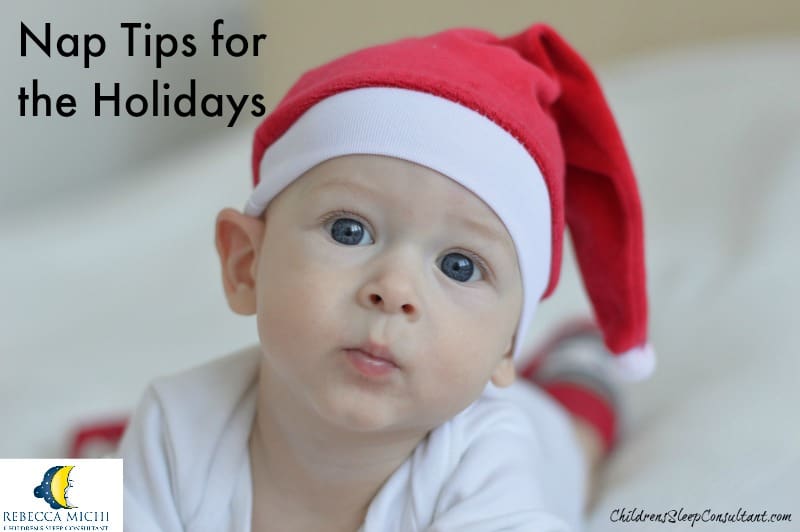 All is not lost just because it's holiday season…
As the festivities go into full swing it can be very easy to get completely out of routine, which in turn can cause a lot of disruption to your child's sleep pattern both day and night. Older children who still nap may be so over excited by the look of the pretty decorations and the sound of Christmas music, that they simply refuse to nap for fear of missing out. So what can you do to counteract the effects of the holiday season?
Stick To The Routine
It can be tempting at this time of year to say yes to every invite to every party, nativity, Santa's grotto and Christmas market going but you have to think about where to draw the line. If a party falls right over your little one's nap time then is it worth going?
The key is more about keeping to your usual order of events, so if your little one usually has their lunch, playtime, book then nap it's important to try and stick to it. The further you deviate from their expected routine, the harder it will be to re-introduce.
Overwhelm Means Over Tired
It's a beautiful time of year and one to embrace, but do so within the processing abilities of your kids. The chances are that even if your baby or toddler would usually fall asleep whilst out and about, the bright lights and merry atmosphere will mean they aren't able to shut down come nap time.
A gentle, calming environment is typically best for successful sleep so as your baby or toddler's nap time approaches, think about leaving the tinsel and twinkling lights behind and trading them for a nice cosy sleep space.
And Finally…
There is no one-size-fits-all, so what your friends and their kids are up to might not work for you and your little ones.
Keep consistent with what works for you and if toddlers especially are getting excitable and struggling to calm down then there are gentle approaches that you can try:
Stay at home, or in their usual environment, for at least one nap a day
If your toddler is fighting a snooze, stay with them and softly remind them how lovely sleep is. It's better than trying to fight fire with fire and getting stressed yourself
If you're away from home during the holidays then take some of their favourite sleep time objects with you. A blanket, teddy, selection of books and comforters can all help to keep things consistent and familiar.
Trust your instincts and enjoy this magical time of year – Merry Christmas!
Comments
comments