We all know that newborn babies are supposed to wake up a lot. We expect the broken sleep, and we know why it happens. Newborn babies need to wake regularly for feeds; their tummies are tiny and they need to be filled at least every 2-4 hours. We also know that sleep is going to come in short blocks of around 2-4 hours too. But that doesn't mean that we can't take some steps to get the most from those blocks of sleep! Here are some tips for newborn baby sleep that might help.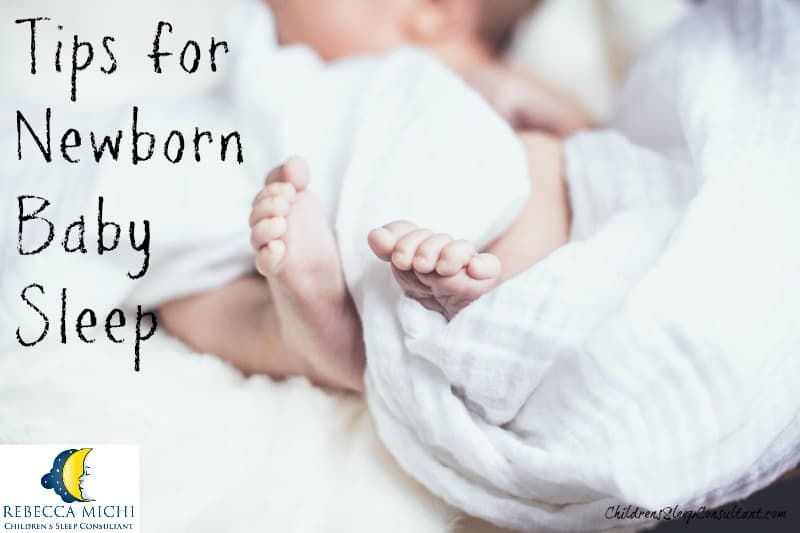 The Fourth Trimester
Babies live out their fourth trimester outside of the womb. This means that if they could, they'd delay birth a little while longer. But since they can't, its up to us to re-create that feeling of being in utero for them. By doing this, we create a safe and nurturing environment for them, which means they're more likely to relax and find sleep a little easier too. Ways that you can make the most of the fourth trimester for your baby and her sleep habits:
Swaddle. I've written before about the benefits, but its worth saying again. Swaddling helps baby to feel secure and safe, and also suppress the startle reflex which means that she's less likely to be woken suddenly. Read my post on swaddling tips and tricks here.
White noise. Again, I've written about the benefits (read that post here) and the reason why its so effective for newborn baby sleep is simple. It re-creates conditions similar to that of in the womb. It helps babies to relax and unwind- and did you know that it could help YOU to sleep too?
Movement. Go for a walk in the pram, or a drive in the car and you'll notice that your baby quickly falls asleep. The movement mimics the sensations experienced in the womb as you move around, so babies find it really relaxing.
Sucking. Be it a breast, a bottle or a pacifier- lots of babies have a strong sucking reflex
Consider baby wearing
Now that we know your baby is experiencing what we call the fourth trimester, its worth considering that all she really wants is to be close to you. You make her feel safe and secure, and she's going to sleep better if you're there. This is why bed sharing is so popular with babies! Unfortunately, you can't always stay in bed all day (if only!) so for many, baby wearing is the next best thing. Read this post for more information on the benefits.
Establish a routine NOW
Its never ever too early to establish a routine for your newborn baby! A good routine can start from day one, and it really will help with sleep habits. Not only that, but a routine will help to bring a little stability to an otherwise chaotic world- newborn babies can turn your world upside down!
Understand your baby's sleep needs
Newborn babies don't have the same sleep habits as we do. This post explains a little more about the reasons why newborns tend to wake. Hopefully it will help you to understand your baby's needs a little better.
Comments
comments