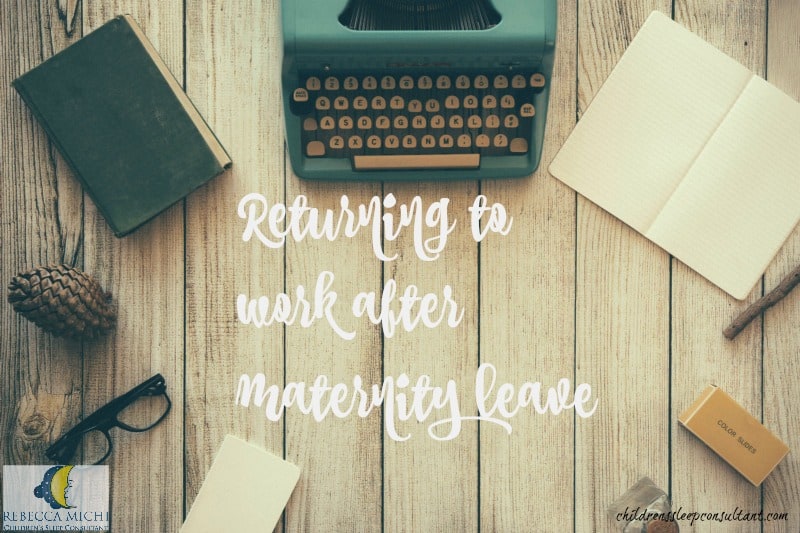 I'm often asked how to handle the return to work after maternity leave, just when it seems you have your baby's routine and sleep all set. And I won't lie, it can be disrupting. But for many families, staying off work just isn't an option so there is no other way around it. You need to go back, you need to leave your baby for most of the day, and you need to trust in someone else to take care of their needs. That can be hard! But it can be done. Here are some tips to make it as stress free as possible.
Plan ahead
Chances are you know before baby is even born the date that you'll be returning to work. So don't bury your head in the sand. By all means, take a well deserved break and don't spend all your time fretting- but at the same time, don't ignore the inevitable. If you plan ahead for everything that needs to be in place when you return, you can relax better and make the most of your maternity leave too. So what needs planning?
Childcare. Do you want your baby to be left with family? A childminder? Or will you use daycare? Spend some time researching your options and find a solution that's going to work for the whole family. For example, who will drop your baby off in the morning? Are there any special needs to consider? Once you've made your decision then spend some time researching settings that meet your criteria, and drop in for visits so that you can get a feel for it. When your return to work is looming closer, you'll need to set up settling in days too so the whole process is definitely best started earlier.
Feeding. If your baby is still going to be breastfeeding when you return to work, you'll need to plan around it. Does your baby take a bottle of expressed milk now and then? Or are you able to leave work for feeds? Does your baby have any allergies that your childcare provider needs to know about?
Finances. Returning to work can be costly! Do your childcare costs balance up with your salary? Can you afford to go part time? All questions that need to be answered.
Get a good routine established
If you're going to be relying on someone else to take care of your child while you go out to work, you're going to need to make sure you have a good, solid routine in place. Especially at bedtime. Its also important to remember that staying flexible is a must. Your baby might need to fit in with your childcare provider's routine, so its a good idea to chat this through ahead of your return so that you can get your baby on a similar schedule at home too. Remember that a good day time routine is essential for good nighttime sleep.
Share the load
If you are the parent who tends to get up with the baby during the night (probably because you have been home from work for this very reason) then it might be time to come up with a new plan. Sharing the workload is essential when you are looking to return to work. Nobody can be everything to everyone, so don't try. If your baby is waking several times and your return to work is looming, do get in touch so that we can discuss ways to help promote independent sleep for your baby. If you are happy with the way that your night times are working out, then fine. But you might need to ask for help in other areas instead- housework, cooking etc.
What are your top tips for returning to work after maternity leave?
Comments
comments