Ahhh summer! It's finally here and don't we just love it? Yes? No? Well, sometimes perhaps. Although we tend to wait all year for the weather to warm up so that we can enjoy long days in the sunshine and longer evenings for alfresco meals and leisurely strolls, when you're a parent summer can play out a little differently. Summer brings it's own challenges, especially when it comes to babies and their sleeping habits. So this week I thought I'd share with you three tips for summer bedtimes. Let me know if it helps!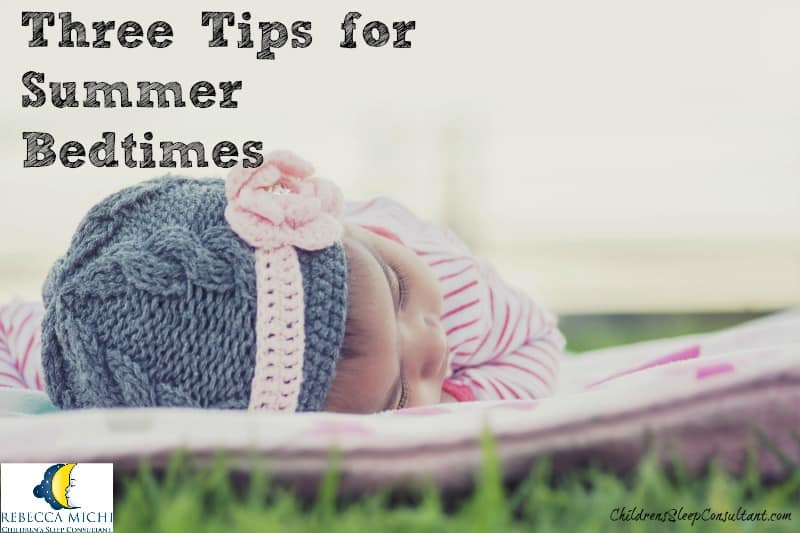 Make sure you keep the bedroom dark
Summer means more sunshine- hooray! But it also means we get more sunshine. Not so great when it comes to convincing little ones it's time to sleep. Our bodies need a dim environment in order to produce melatonin, the hormone that induces sleep. Without darkness, we cannot produce melatonin, so getting to sleep can be more difficult than usual. So it goes without saying that you need to make sure you keep the bedroom dark. Use a blackout blind to make sure the room is dark both in the evening when you want your baby to go to sleep, and also in the morning to prevent early wake ups.
When you're out and about, invest in a canopy or a SnoozeShade for naps on the go. The added benefit of the latter is that your baby will be protected from the sun's harmful rays too.
Follow safe sleeping guidelines
When the weather heats up, you'll want to brush up on your safe sleeping guidelines. It's really important to keep an eye on your baby's temperature and to make sure there is enough cool air circulating where she sleeps. Don't overdress your baby, and check regularly to ensure she isn't overheating, especially during day time naps. Read this post for more information on safe sleeping in the summer.
Don't let travel plans disrupt your baby's routine
So this is the time of year that we tend to jet off on holiday- and why not? The only problem being that when you have a baby in the family, travelling can be a huge disruption to their routine. And while this might not be an issue for some, for others it can very hard work indeed! I tend to advise parents to stick to their usual routine as much as possible while away, but to be flexible and to allow for adjustments. That said, some babies are more sensitive than others, and as we know our baby's temperament can affect her sleep, we need to take this into consideration. So, if you have a 'high needs baby', here are three tips to make travelling a little easier:
Plan ahead for naps. If you can plan your journey to begin at nap time and you know your baby will sleep then, do it. And if you can plan regular stops too, then do that also. While you're away, plan your naps into your daily itinerary too. A SnoozeShade will help naps on the go.
Take home comforts with you. If your little one has a comforter or a lovey, then make sure you pack it. Take whatever you can manage to take that will help your baby feel relaxed and secure, as this will help when it comes to getting to sleep.
Stick to your routine where you can, but be prepared to use your gentle sleep training methods. Roughly speaking, don't be afraid to lengthen out bedtime if you need to, but always be mindful of your baby's needs. Watch for sleep cues and take action when she's tired, otherwise she'll become over tired and that's never going to make for a peaceful holiday. If you need to tweak your nap routine so that baby can stay awake for longer in the evenings, then do it. But remember that when you get home you're going to need to really focus on getting back on track as quickly as possible. When baby wakes during the night, be consistent and use your normal gentle sleep training techniques to soothe her back to sleep
What are your top tips for summer sleep?
Comments
comments