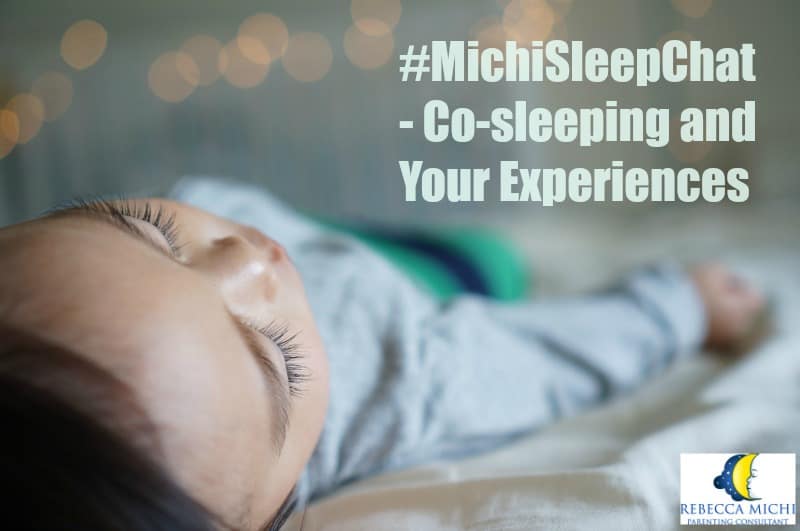 Over on Twitter we've been holding regular tweet chats called #MichiSleepChat- search the hashtag to see what's being talked about. One topic that was particularly emotive was co-sleeping. As ever, many parents had a lot to say, and it seems that there are still mixed messages when it comes to doing it safely. So what are your thoughts on it all? Is it a no no, or are you more than happy to share your bed with your baby? Here's a little roundup of the chat.
Attitudes towards co-sleeping
I asked whether parents felt there was enough information available on co-sleeping and safe sleep guidelines, and below is the reply I got:
I do believe that if done safely, co-sleeping can be a wonderful way for parents to not only bond with baby, but to get more sleep too! What do you think?
I'm not alone, either:

@RebeccaMichi We quite often do when Jake wakes in the night. It helps to resettle him when we have to be up for work! #MichiSleepChat

— Jenny Hicken (@GreatNorthMum) May 24, 2016

So long as you know the risks and how to reduce them, co-sleeping does not need to be an issue for you. Of course, that's not to say its for everyone. Read more safety tips and advice in this post.

Your experiences

More often than not, I'm told that co-sleeping has helped you and your family to get more sleep. Or, in some cases, some sleep. And if you're following the safety guidance than that's great! Alternatively, some of you have told me that co-sleeping is huge no no- and that's ok too! Some of the reasons why co-sleeping doesn't work include a fidgety baby, a baby with reflux, a partner who isn't keen… there is no definitive list. The point is that it needs to work for you and your family, otherwise it just isn't going to work.

At the same time, health professionals can be keen to discourage co-sleeping and if you prefer to follow guidance from your doctor that's absolutely fine! Co-sleeping isn't a solution for everyone and there's no reason to believe otherwise. It's a personal thing and only you can decide if it's right.

Be informed

At the end of the day, the only way to make a decision is with all the facts and advice under your belt. If you're able to make an informed decision, you're going to feel a lot happier about the situation. So if you think that co-sleeping might be for you, do some research. Speak to your doctor and other parents. Gather different experiences and opinions and use them to inform your own. Try it. See how it goes for you and your baby. If it doesn't feel right, don't feel bad. Not every family co-sleeps, just as not every family breastfeeds, uses disposable nappies, or reads a bedtime story at the end of the day. Ultimately this is your decision, don't let anyone else make it for you.

What do you think? Do you co-sleep? Has it helped you?
Comments
comments