Not sure if you're ready to sleep train yet? So many families come to me with tales of sleep woes, but worries that they are just not ready. Baby is not ready. The family as a whole are not ready. And sometimes, it's true. They aren't ready. Yet most of the time, if they are coming to me for help they have been ready for some time. So how do you know when the time is right? Here are three signs you're ready for a gentle sleep training  program…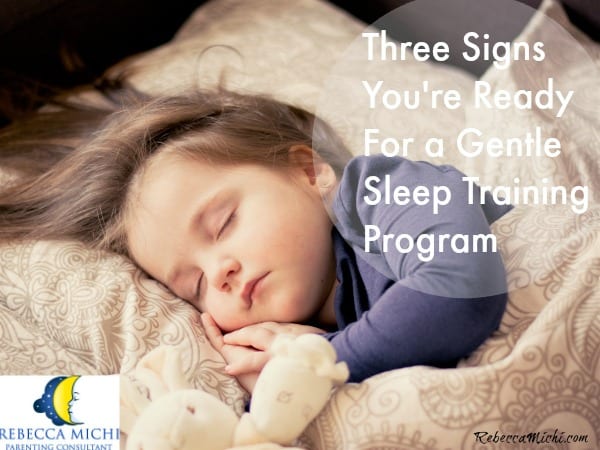 You're sleep deprived
If your baby is over nine months old and waking frequently in the night there's a really really good chance that you're sleep deprived. And if you're sleep deprived, you're ready to sleep train. When we don't get enough sleep, the effects can be so damaging to our body both physically and emotionally, and this can make it hard to make decisions. What this means for sleep training is that many parents doubt that the decisions they're making are the right ones. It's easy to feel as though you're in a cycle you can't get out of, no matter what you try.
This is where I come in. Often all it takes is for another person to tell you that you need some help, and offer some suggestions and advice on how to make improvements. The hard work is done by you, and if you're ready to take the first step you know where I am.
Your baby has a sleep problem
Perhaps problem is a fairly strong word to use here. Maybe issue suits your baby better. But no matter how you word it, if you feel that your baby's sleep habits are a little 'off' then they probably are. And that means you're ready for a gentle sleep training program. It's important not to compare your baby to anyone else's. If your baby wakes for a feed and your friend's baby doesn't, that doesn't mean there is a sleep issue necessarily. Sometimes our own expectations are more to blame than our baby's sleep habits. Remember that your baby is an individual with her own personality and needs, and that might just mean that she'll take a little longer to settle into better sleep habits.
BUT if your baby does have an issue that is affecting her sleep, and yours, then chances are the time is right for a gentle sleep training program that works for you. Again, you know where I am.
You tried cry it out and it wasn't for you
So many parents think of sleep training, and decide that leaving their baby to cry it out is the way to go. Perhaps this is the most 'popular' method, or most talked about program when you ask around, or type sleep training into google. But that doesn't mean that it's right for everyone. I am in no way judging anyone else's parenting approaches, but I do not recommend cry it out at all. There are so many reasons for this, most of which are outlined in this post.
So if you've tried the cry it out method, let's put that behind us. There might be any number of reasons why it didn't work for you, but the fact that you tried it shows you are ready to sleep train. And if cry it out wasn't for you, then gentle program probably is. What you need to do next is to set yourself some sleep goals (realistic ones!) and look at the areas that you know you need help with. Keeping a sleep diary is a great idea too, because it will help you pinpoint the things that your baby is finding difficult.
The most important thing to remember? This is a phase. It will pass. With consistency, commitment and courage- you will get there.
Comments
comments