So you're ready to start a gentle sleep training program? Brilliant. But are you sure you're really ready? Here's a quick checklist just in case…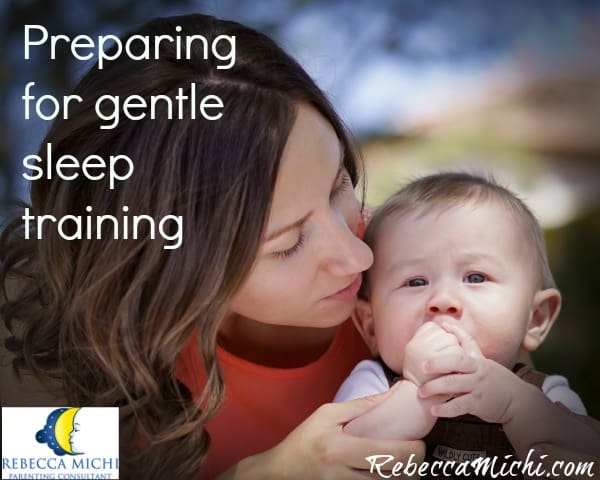 Is the timing right?
We don't recommend sleep training for babies younger than six(ish) months old, because night feeds are still needed for many.  Some babies (laid back and easy going temperaments) may be ready shortly after four(ish) months of age. Some babies will be a little older. It's important to know when your baby is ready, and for that matter when you are ready too. Remember that committing to a sleep training program, even a gentle one, is a big step. It can be hard work and needs consistency. If you're not in a place to be able to do that you need to speak up.
Do you have a good support network?
You don't need to go it alone, and many families find they need good support to get through to the end of sleep training. The beauty of gentle sleep training methods is that you aren't required to leave your baby to cry, but that doesn't mean it's not going to be hard work. It can also mean that your program can take a little longer than usual too. But the results are worth it, believe me. And the fact that you've chosen to respond to your baby's needs rather than leave her to cry means that this is important to you. So get friends and family to help out and make a commitment to do it together.
Do you have the patience?
Sleep training does not happen overnight. Often families can be surprised at just how long some babies can take to respond to a particular program. But don't forget that you're teaching skills for life, and that isn't going to happen straight away. Obviously,some babies will 'get it' a lot quicker than others, but it usually takes a good few weeks to see results. This means that you're going to need a lot of patience. And especially on the nights where it feels you spend more time at your baby's bedside than in your own. But, again, it's worth it. And this is where your support network becomes invaluable too.
Are you well rested?
If there is a chance that you can get some extra sleep or rest before you start your sleep training, then take it. You need to be as rested as possible, and while this might not be ideal for many families it's impatient to remember that often things will get worse before they get better. When you introduce a new routine or regime, it upsets people. So its likely that at first you will get little sleep. So now that afternoon nap might sound like a good idea, right? Stock up now, before you begin.
Do you have a good bedtime routine?
It's never too early or too late to incorporate this so you don't need to wait for the sleep training to begin for this one to make a positive impact on your overall sleep. Get a good routine established now.
Do you have a plan?
It's worth writing down your sleep goals and intentions for your baby's sleep training program. Be realistic, but be optimistic too. And it might be a good idea to note down the sleep training methods you want to try, alongside those you definitely don't.
Do you have a clear calendar?
Don't start a gentle sleep training program when your schedule is as busy as it gets. It's a good idea to either clear it, or to wait until it's a little less hectic before you start. Remember that you're making a commitment to making some changes, and you're also going to be missing out on sleep too. So don't arrange anything big while you commit to this.
What are your top tips for preparing to sleep train?
Comments
comments