When your little one is suffering with infant reflux, sleep can be a pretty miserable affair. It can also feel non existent too! So how exactly is sleep affected, and what can you do to ease the situation? Read on to find out more…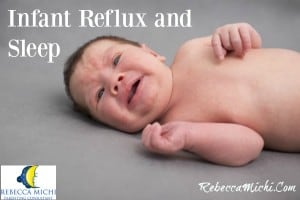 What is infant reflux?
Thankfully infant reflux is rarely serious, and actually quite common. It happens when food is brought back up from baby's tummy, resulting in acid travelling up the oesophagus. This means that baby will inevitably be sick quite a lot (referred to as 'active reflux'), or in some cases will experience pain and discomfort during a reflux episode. Babies who are not excessively sick are sometimes harder to diagnose, and this is often referred to as 'silent reflux'.
Most infants grow out of reflux without issue and its generally unusual for babies over the age of 18 months to continue to suffer. That said, it does happen and for some unlucky babies reflux never really disappears.
Very rarely, reflux can be indicative of other digestive issues. Always speak to your doctor if you are concerned, and follow relevant medical advice.
Symptoms
Most parents will know when their babies are suffering (ie, they cry a lot!) but reflux isn't always the first thing you think of. Obviously a medical diagnosis is needed, but it helps to know the common symptoms:
Baby cries a lot
Lots of spit up/ vomit
Pulling legs up
Arching the back
Constant hiccups
Feeding issues- either lots of short feeds (comfort feeding) or feeding refusals
Disturbed sleep
Chronic cough
How does reflux affect sleep?
Ever had heartburn? Well you'll have a good idea of how reflux feels. And add to that the fact that babies are not able to get up in the night to pace the floor, take an antacid and curse the curry they ate the night before. Because they are inevitably lying prone on their backs through the night, the acid is more likely to travel back up from the stomach, causing pain and discomfort. And while we are able to prop ourselves up until things settle down again, babies are obviously unable to do this.
So while many babies sleep fairly well even with reflux, an unlucky few will experience disrupted sleep simply because they're in pain. If you're a reflux parent, you'll definitely identify with this!
How can we help reflux babies to sleep better?
First and foremost you will need to speak to your doctor about treatments that are available to your baby, and you will need to decide whether or not you want to take them. Some parents prefer not to use medication, and that is a personal decision. Some parents feel that medication is the only way to ease their baby's discomfort and, again, that is a personal decision.
Before medication is prescribed, there are many steps that you can take to potentially ease the pain that reflux brings. Here are my top tips to try:
Elevate. Keep everything that your baby lies on at an incline, so that the acid can travel back down to the tummy, thus preventing the burning to the oesophagus and reducing the amount of vomit. So pop a wedge or a pillow under the crib mattress, under the changing mat and under the play mat during the day. The more your baby is as upright as possible, the better.
Keep baby upright for 30 minutes after feeds. This will help food to settle into the tummy and thus reduce the risk of reflux episodes. Baby wearing is an excellent option here.
Don't move baby around too much after a feed.
Don't put baby to bed straight after a feed. When baby lies down, food is more likely to travel back up the throat, so aim to make your feeds at least 30 minutes before sleep time.
Keep a log of your baby's feeds, and note down when the reflux episode are worse. If you're breastfeeding this is especially important as it could highlight certain foods that you're eating that may be exacerbating symptoms.
Get support. Your baby's sleep is going to be affected while the reflux is causing pain, and this can be really hard. The best way to help your baby is by making sure that you are able to cope and function well, so if you have someone to help you out with the night wakings, take advantage of that.
Gentle sleep training and reflux
Its not impossible, but it will be a challenge. First and foremost your baby's symptoms will need to be under control if you are to help with better sleep. So you will need to speak to your doctor and find a treatment plan that works for you. Once the reflux is being treated, there is no reason why your baby cannot follow a gentle sleep training plan.
Comments
comments