Christmas is a busy time for many families. The endless family visits, the Christmas shows, Christmas parties, trips to grottos and carol concerts. Then you have the lights and the music and the constant stimulation from the television, shopping malls and everything else on top. For some children, babies included, Christmas is a sensory overload and it is inevitable that your routine is going to come a little unstuck here and there. Then you have the big day itself! Most newborn babies will breeze through Christmas like any other day, but older babies may find it a little too much. If you're at all concerned about your baby's routine over Christmas, hopefully this quick guide will help you out!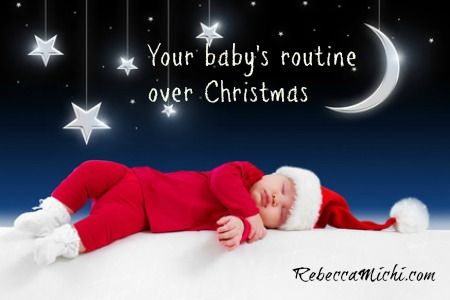 Be prepared to deviate from the norm a little. Unless you intend to be very strict, then you are going to have to accept that your baby's routine over Christmas will need a little tweaking. Be prepared for this and don't worry excessively about it.
Don't let late nights break you. A good rule to have is to let timings slide a little, but keep routine familiar. So stick to the same bedtime/ nap time routine you normally have- with a good wind down session- even if it is a little later than normal.
If you're staying away from home, take familiar things with you. Take your baby's usual blankets, story books and comforters so that bedtime is as stress free as possible.
Have a plan for late nights. If you know you'll be out late with little ones and travelling home past bedtime, take pyjamas and comforters with you and change them into night clothes before you travel. If they sleep in the car, transfer them from vehicle to bed, and try to time the whole thing with the last feed if you can- so that you feed on arrival at home and then put baby to bed as normal.
Be mindful of late nights. It's ok to have a late night over Christmas, but ideally you want to follow this with a fairly low key day. Your baby will need time to recover!
Christmas Eve can be difficult for older children to settle to sleep so come up with a plan of action before hand. Agree to a slightly later bedtime with plenty of wind down time and relaxing activities to end the day. Try to keep them as calm as possible and remind them that Santa only visits when they are asleep!
Christmas morning could be an early one with older kids too, so try to get a good night's sleep yourself! Go to bed a little earlier in anticipation of a busy day, if you can. Try to agree a suitable time for everyone to wake up!
Ask friends and relatives to respect your routine. If you know that your baby is due a nap but Uncle so and so hasn't had a hold yet, be firm. Once your baby has slept there is more chance of peaceful cuddles than there is with an overtired baby.
Watch for sleep cues. With the extra visitors, lights and general noise of Christmas you baby may get tired more easily. Keep an eye out for signs of tiredness and act on them.
If your baby does become unsettled with the slight changes to the routine, you might want to consider tightening things up a little. Once the holidays are over, if you find that your baby is no longer sleeping as well as they were, here are some tips to try:
Don't panic. Stick to your sleep training methods and allow at least a week to get back to normal again.
Keep things calm at home. Agree a point at which Christmas is 'over' and you will be getting back to normal as a family. This often coincides with the kids going back to school, but it's up to you. For some babies and children the over stimulation of Christmas is a little too much and you might want to slow the pace a lot sooner.
Explain to friends and relatives why you aren't visiting. If you decide to tone it down, explain your reasons and ask that any guests to your home are respectful of this too.
Usually when a baby's routine is disrupted, it is short lived. Use your own instincts to decide whether or not you are happy to stray from your routine, and don't let it spoil your Christmas. Good luck!
Comments
comments