Sooner or later your baby is going to need to move from crib to bed. Often, your indicator for this can be when they try to climb out the of the crib commando style! But what if you genuinely feel your little one is just not ready for a big bed? Or the bed is on order and not due to be delivered for a few weeks? Or you're due to go away on holiday/ it's birthday season/ a new baby is due and you don't feel the time is right? How do you cope when baby wants to climb and the big bed is not ready? Hopefully these tips will help!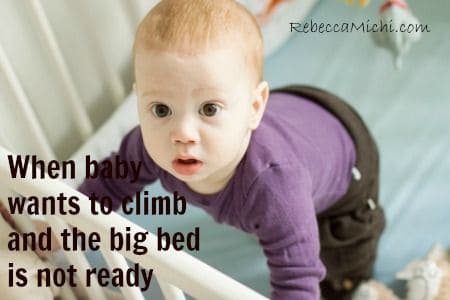 Once your little one starts to climb, its important that you:
Lower the mattress to the lowest setting so that climbing is not possible any more. If your little one is tall or extra determined, you might still worry that he'll be able to get out and in that case you might want to reconsider the whole big bed thing. If he is big enough to climb out with the mattress at the lowest setting then there really might be no other option.
Keep the crib clear of bumpers and toys. This is essential safe sleeping advice anyway, but you don't want any items in the crib that your little one can use to aid their escape. Leading to the next point…
Make sure the crib is nowhere near dressers or doors or anything else that can be used as a climbing aid. Keep the crib well away from anything that can be manipulated!
If your little one is insistent on climbing or attempting to climb, try these tips:
Create a soft landing with blankets and cushions on the floor- this way if your little one does climb out, they won't harm themselves when they land.
Put safety gates on the bedroom door so that your little one cannot wander about near the stairs or bathroom.
Buy a toddler bed- this can be a good stop-gap between a crib and a big bed and is basically a small mattress/ bed in one that sits on the floor. Make sure that all other items are removed from the room so that your little one cannot pull anything into the bed etc and again safety gates are a good idea.
Essentially, your baby trying to climb from the crib is a sign that a bed is on the cards so all of the above are really only temporary solutions. Good luck!
Comments
comments