Does your baby enjoy tummy time? Chances are, she finds it as frustrating as the next baby, but that doesn't make it any less frustrating for you! You've probably already been told that tummy time is very important for your baby- which is why her reluctance to be on her tummy can be a source of concern. As ever, we're here to let you know there is no need to worry! Lots of babies find being on their tummy unpleasant, but that doesn't mean there is nothing you can do about it. Read on for some tummy time tips that might just work for you.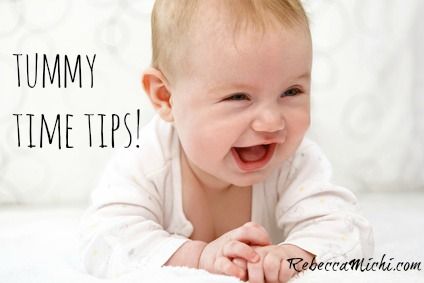 Why is tummy time so important?
Spending time on the tummy is important for young babies as it helps them to develop strength in the neck and arm muscles, in preparation for learning to eventually crawl. Since we put our babies to sleep on their backs, the time that they spend on their tummies is more restricted these days, so dedicated supervised tummy time is recommended in a bid to counter balance this restriction.
When to start tummy time?
Tummy time is recommended from day one. You will be advised as soon as your baby is born that the best sleeping position for her is on her back. This is to reduce the risk of Sudden Infant Death Syndrome (SIDS); research has shown a significant reduction in unexplained deaths from SIDS since parents adopted this position for their babies. However, research has also found that more babies are showing signs of late development when it comes to holding up their heads from a tummy position, and learning to crawl. Therefore, the sooner you start supervised tummy time the better!
Why does my baby hates tummy time?
If your baby sleeps on her back, and spends time in a bouncy chair, car seat and stroller, chances are high that tummy time is unfamiliar and perhaps frustrating for her at first. She is used to being on her back, and she will find being on her tummy- and unable to witness the world from the same view- quite frustrating. This is normal! Until she gets used to the new position and figures out ways to lift her head and get a different view, she will probably be frustrated. This is why an early start to tummy time is a good idea. If your baby really does seem to hate tummy time with a passion, try these tips:
Always stay with your baby during tummy time sessions. This is so important, not only for helping to build her confidence in you, but for safety reasons too. If she falls asleep in this position, it is always safer to turn her over to her back. It is also important that you let her know you are there for her whilst she is in an unfamiliar position.
Keep tummy time sessions short at first, and gradually build up to longer periods of time. Listen to your baby and when you recognise that she is getting upset, change her position.
Get down on the floor with your baby during tummy time. She is bound to get upset if she can't see you! Use lots of eye contact and talk to her gently, encouraging and reassuring at all times.
Try lying down on your back and gently lowering baby onto your tummy. This will help to reassure and comfort, and will be a wonderful way to bond with her too.
Making tummy time fun
Tummy time is an important way for your baby to learn essential gross motor skills, but that doesn't mean it can't also be fun. There are many ways that you can help your baby to enjoy and look forward to tummy time sessions, and here are some of our favourite ideas:
Play the airplane game- Lie on your back with your legs bent, and put baby's tummy against your legs with her head at your knees. Gently lift baby on your legs and allow her to see the world from a new perspective.
Use board books to stimulate baby during tummy time. Place them in front of her and turn the pages slowly, talking about the book and encouraging her at all times.
Use plastic mirrors on the floor so that baby can see her reflection- and yours!
When baby is older, fill a shallow baking tray with water and a few plastic toys, and let her splash away as she lies on her tummy. Most babies will love this!
Use lots of different coloured scarves or blankets for baby to look at, and add different textures too. Give baby some extra sensory stimulation to distract her from being on her tummy!
Place toys just slightly out of baby's reach, so that she strives to reach for them when she is able to. Give her an incentive to work on her tummy time!
Safety tips for tummy time
Remember that supervision is required at all times during tummy time. Also make sure that there is nothing your baby can reach that could pose a hazard too. Keep blankets and scarves tucked away as much as possible to avoid baby becoming tangled up in them, and make sure you are close by at all times. For comfort and safety:
Always place baby on a clear surface for tummy time- on the bed is fine, as long as you are there and your baby is unable to roll of the side  etc. A good position is to place baby at the edge with her head overlooking and you on the floor beneath her. But do make sure that she can't fall.
Use soft blankets or a mattress for tummy time so that your baby is well cushioned and comfortable.
Make sure that any other adults or children in the house know that baby is on the floor!
Use a cushion or rolled up blanket/ towel to prop baby up a little during tummy time. This can help to encourage her to lift her head, and make her a little more comfortable too. Make sure that baby is comfortable and safe if you do this.
Practical tips for tummy time
Time it well. If baby is cranky, tummy time is not going to be appreciated! Make sure baby is awake, happy and willing to try before you spend time setting up a session. Aim for 30 minutes per day, but don't forget that it's fine to work up to that if baby is really unhappy being on her front. Don't attempt tummy time after a feed- imagine how you would like to lie on a full stomach? Finally, listen to your baby. If she is upset, call and end to the session and try again tomorrow. Don't forget to praise her and let her know you are happy with her efforts though!
Comments
comments