Toddlers are wonderful creatures! Full of wonder, excitement and joy. Oh, and frustration, anger, and stubbornness too. And we wouldn't have them any other way, since all of these things are what make toddlers so unique and so perfect. When you're two, the world really is a frustrating place- it doesn't always work the way you want it to, and you don't understand why, nor are you always able to make the changes you want to either. Hence, many toddlers are prone to tantrums. It's all completely normal! But that doesn't help one bit when you are already frazzled from the pressures of every day life. So how best to deal with toddlers and what can be perceived as challenging behaviour? Hopefully our tips will help.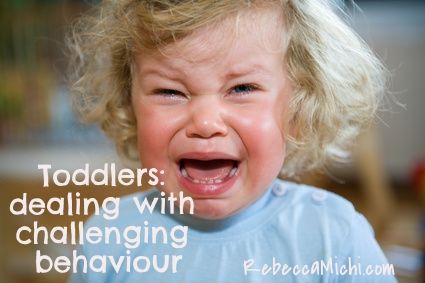 Your child isn't terrible
While the term 'terrible twos' isn't entirely inaccurate, it is quite an unfair assessment of the situation in many cases.  Your child really ins't terrible (and the 'difficult stage is not just reserved for two year olds, either. Frustration and anger can occur a lot earlier and last  a lot longer than one year, in many cases…) and so much depends on your reaction to their behaviour. So it pays to stay as calm as you can when a tantrum is in full swing. Don't be tempted to reason, argue or shout back at your toddler. None of this will do any good, and will only serve to potentially escalate the situation, prolong the pain and leave you bot upset and angry. There are techniques that you can learn to ride a tantrum:
Breathe deeply. Sounds lame, but it really works. Take a moment to inhale and exhale deeply before you respond to your child, as this will allow you to gather your thoughts and to remember to stay calm.
Take your child seriously. Ok, so bread has to go in the toaster to make toast, despite what your toddler claims, but that doesn't mean that the resulting outburst is silly. If it matters to your toddler, then it matters. If your child is able to listen, explain calmly what you need to do to make toast, and help him to understand a little better.
Know when to stay quiet. Sometimes your toddler will be 'too far gone' to be able to listen to reason, and if this is the case there really is no point in trying to be heard. In this case, it's best that you allow your toddler to release his frustrations safely, and to wait until he has calmed down before you explain why the bread needs to go in the toaster. Make sure your child is in a safe place where he cannot harm himself.
Don't dwell on the tantrum. When your child is calm, talk to him about what happened and how his behaviour makes you feel. Help him to understand that there are better ways of making a point- explain that he needs to talk to you about what he wants, rather than screaming and shouting. Take a moment to make peace with your toddler, and then move on. Don't hold it against him, especially as the chances are great that he will have forgotten all about it within an hour or so.
Try to look at your own behaviour too. Some parents find it helpful to imagine there is a camera, or an audience, watching them when their toddler is having a tantrum. Being mindful of how you are dealing with a situation can help to keep patience as the forefront a lot longer and can actually be a helpful technique.
Understand the tantrum
This is easier said than done, but often tantrums can be diffused or even avoided if you understand their source a little. Another way of putting it is to 'choose your battles'. If you know that leaving the crusts on the toast will make your toddler upset, then remove them. Unless you really  want your child to learn to eat crusts, that is. It's up to you to decide what behaviour is acceptable and what you need to be firm with.
It also helps to recognise external factors that can contribute towards a tantrum. Being tired (hence why we feel so strongly about sleep and bedtime routines!) can exacerbate any situation- for you both- and can be a major cause of tantrums for many toddlers. Similarly, being hungry or feeling unwell can also be considerable contributors towards challenging behaviour. Try to recognise the signs and take steps to eliminate them where possible.
Some tantrums will be over before they even begin, and this is great. If you know that your toddler will not be upset for long, take the opportunity to move on quickly from the situation.
Challenging behaviour
While tantrums are challenging, they are totally normal. Hitting, biting and kicking is a lot more extreme, and not usually characteristics of a 'normal' tantrum, so more often this type of behaviour is classed as challenging. The most important thing to do when your child acts in this way, is try to understand why. Usually a child lashes out like this due to:
frustration/ anger over a certain situation
feeling unhappy/ sad/ insecure- perhaps over the arrival of a new sibling, or a house move for example
immaturity- they are too young to know how to calm down/ reason; they are too young to know how to express their feelings and emotions in another way
tiredness or over-stimulation
excess energy that they are unable to burn off
they enjoy the physical sensation
they are modelling behaviour
If you think you're able to identify the reasons why your toddler is acting out, it can be a lot easier to deal with it. Remember that it is not your child that is challenging, it is their behaviour- and once you know what it causing it you can take steps to eliminate the triggers. Spend more time engaged with your child in rough play or physical exercise if you think that they need to burn off energy. Make an effort to include your toddler in the new baby. Make sure they are getting enough sleep both during the day and at bedtime. It is up to you to control the situation as much as you can.
Be realistic
Your toddler is a toddler. There is no chance that he is going to be able to live up to adult expectations of behaviour at all times, so its important to allow for typical toddler behaviour now and then. But that's not to say that you can't have expectations. Let your child know that you expect kindness, respect and honesty- and model this behaviour too.
Comments
comments