For the first six months of your baby's life, breast or formula milk provides all the nourishment that they need. After that, it all changes. Weaning is an exciting time for you both- the chance to explore new tastes, textures and experiences, and an opportunity for you as a parent to learn even more about your ever growing bundle of joy. But this can also be a time that brings lots of questions too- about which foods to start with, how to start, and whether or not to go down the baby-led route. At the end of the day, the decisions lie at your feet, but it doesn't hurt to read up as much as you can before you start. Here are our tips for weaning onto solid food.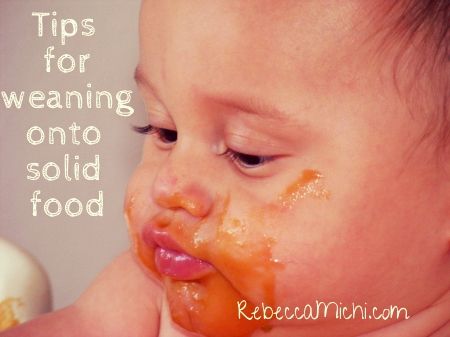 Is baby ready?
Just because your baby's age is right, doesn't necessarily mean that the time is right. There are a few signs to look for that will tell you whether or not your baby is ready:
Baby is able to sit upright in a chair, unaided
Baby is able to chew and swallow
Baby shows an interest in food and in others eating
Baby reaches for food and tries to eat it
If your baby is showing these signs then chances are the time is right!
Start slowly
Introduce one new food at a time, and always in the morning. The reason for this is so that you can closely monitor your child's reaction to the food. If your baby suffers wind or discomfort after trying a new food, you have the whole day to ease these symptoms so that hopefully night time sleep is not affected. And by introducing one food every three or so days, you will be able to carefully monitor which foods cause the reactions, and therefore which foods to avoid for a while.
It's also a good idea to make sure your baby is in good spirits and feeling well when you introduce new foods. Don't try to start weaning while baby is full of cold, tired, or generally feeling crabby. It won't go well!
Baby-led weaning?
Baby-led weaning is a term given when parents allow their babies to take the lead with choosing new foods to taste. It's often a natural progression in the whole process and something that many families find work well for them. If you do choose to serve up baby friendly versions of the food you eat, the advantages are:
Baby is introduced to a varied and full diet from the outset
Baby practises essential fine motor skills need to pick up foods
Baby learns social skills, independence and confidence
You don't need to spend time cooking separate meals
As already mentioned, always start with one new food every three days, but allow your child to pick up the food and to explore it with fingers, hands and mouth. This process is important for babies and also means that you aren't required to sit with a spoon to baby's mouth too.
Purees, purees, purees
Babies need to start with finely pureed foods too. Lots of families prefer to stick to pureed vegetables and fruit at the beginning of the weaning process and that's fine. Make sure that you move on to lumpier foods as baby gets the hang of new foods and the chewing and swallowing that eating requires. It's a good idea to batch cook meals and portion off some to puree and freeze in pots for easy use.
Tips for weaning
Don't be afraid of the mess. Weaning is a huge learning curve and the only way to do it is to let baby explore. This means that they will use their hands to get in there and investigate what they're eating. If you're worried about mess, put a wipe clean cloth down on the floor and deal with it afterwards.
Don't be afraid of giving your baby 'odd' foods. Expand your own diet at the same time, and you might find the whole family gets a taste for something a little more exotic!
Relax. If baby is not a willing participant at today's meal, then don't sweat it. Weaning is a gradual process and your baby still needs lots of milk feeds for a while longer yet.
Don't force new foods- if baby isn't keen, try again in a few days.
NO salt in baby's food.
So are you ready for the next chapter in baby's exciting journey? What are your top weaning tips? We'd love to hear them in the comments!
Comments
comments