We all suffer from sleep deprivation from time to time, right? Especially if you're a parent. Newborn babies are programmed to wake at least every 3-4 hours for a feed, and infants in general can keep us awake at night for one reason or another, can't they? But what if this goes on for longer and longer periods of time? What if lack of sleep starts to affect your every day life, your emotions, and your work? Today's post is designed to bring you the truth about sleep deprivation, along with some tips on how to get through it all too.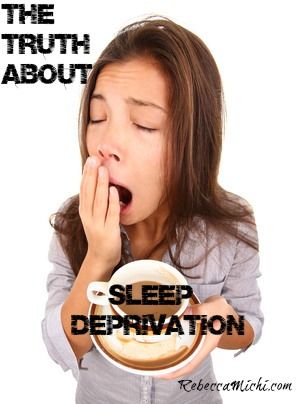 about 45% of the world's population is not getting enough sleep. For some, this is not a big deal as we are all different and some are able to function perfectly well on just a few hours each day. For others though, its not good news at all. Sleep deprivation can bring with it some pretty ugly side effects, including:
memory problems
depression
weakening of immune system, making your more susceptible to illness
an increase in pain perception
Alongside these rather unfavourable side effects, the truth is that sleep deprivation can be dangerous. Hand to eye coordination is reduced, reaction times are limited and trouble keeping your eyes focused makes driving a serious concern when you're sleep deprived. True sleep deprivation cannot be cured with caffeine either so if you find that you are yawning, forgetting the last few stretches of miles driven and are struggling to stay focused on the road, its time to pull over!
Most of us need around eight hours of sleep each night, and for many parents it is usually the sleeping habits of our children that influence whether or not we get that amount of sleep or not. I'm sure we've all been in the situation where you're just nodding off and the baby wakes, meaning you take a good while to settle again afterwards, only to be woken again… Such cycles are detrimental to our health. So what can we do about it?
Sleep training
There is no denying that some babies need a little help with their sleeping habits. We don't recommend sleep training newborn babies, but older infants can always be helped to learn how to sleep well. Please take a read of our quick guide to the Michi Method for more information on my no cry method of sleep training.
Change your own habits
If you know that your baby is an early riser, or is likely to wake at least once for a feed each night, and that you are going to feel the effects in the morning, then it is worth taking a look at your own bedtime habits too. Go to bed a little earlier and make an effort to wind down properly each night so that sleep is not elusive once you are in bed. It might only be for a short while, and it might make all the difference between feeling rotten or raring to go in the morning.
At the weekend, if you can, try to sleep an extra one or two hours to try and recoup some of the lost sleep. Ask your partner to support you with this and do the same for them if they need it too. Don't rely on caffeine to help keep you awake either, as this can lead to further sleep problems later on.
Have a medical check
If your baby is sleeping better but you are still waking up tired, there could be a medical reason for it all. See your doctor to rule out possible causes for sleep deprivation.
Help yourself
Its important for you to realise how precious sleep is, and not to believe that you can continue with very little hours of good rest each night. There are huge benefits to having enough sleep! These include:
A boosted immunity against illnesses.
Potential changes in your waistline- studies have shown that those who are sleep deprived on a regular basis are 30% more likely to be obese, due to the body's reduced levels of leptin and increased levels of ghrelin. The former is a hormone that tells you when you are full, and the latter a hormone that tells you when you are hungry. In essence, sleep deprivation can lead you to over eat and therefore gain weight.
Positive mental well being. We know that lack of sleep can lead to low moods, irritability and feelings of depression and anxiety. It makes sense, then, that having enough sleep should boost your emotions.
Sleep deprivation is not nice for anyone, and it is certainly something we should be taking seriously. The next time a friend or family member offers to take care of the little ones while you rest, take them up on it. Being more rested will only benefit you and your family in the long run and if you think that you may have a sleeping problem too, then do seek medical advice. In the meantime, if you need help in getting the little ones to sleep better, do get in touch!
Comments
comments