One of the easiest ways to comfort and soothe an unsettled baby is by holding them close so that they feel secure and loved. Babies love this. Come to think of it, we all love this closeness to another human being! But for a baby, being held so close and so tightly can be the ultimate experience. And often, when parents tell me that they are finding it hard to get things done because their baby likes to be held so much, there is really only one recommendation- babywearing.
Babywearing is an age-old tradition that has been practised all over the world for hundreds of years. It was born from a basic need for mothers to keep their babies close so that they could comfort, feed and nurture whilst continuing with everyday life. And today it is still practised extensively in many cultures, more recently so in the western world. Not convinced? Let me tell you about just a few of the benefits of babywearing.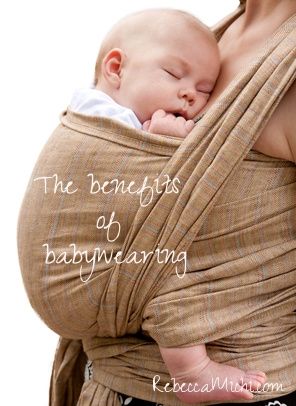 Regain the use of both of your arms
One of the most appealing benefits of babywearing- you can multi task! Wearing your baby means that your hands are free to be able to do other things, that perhaps your little bundle of joy might have been objecting to previously. How many times have you tried to sit down to eat, only to find that your baby has other ideas? If you wear your baby in a sling or carrier, you are providing the comfort they are craving, but you are still able to continue with your other tasks. Pretty nifty, huh? Babywearing means that you can take your baby with you wherever you go, without worrying about folding and unfolding heavy strollers or unclipping car seats. It means that you can have two arms free to do the grocery shopping. It means no more frantic face washes in the morning while the baby cries in the car seat by your feet. In this way, babywearing helps to reduce stress- for both you and for baby.
Keeping baby close
Babywearing helps you to bond with your baby, simply because you are holding them closely a lot more. This helps to combat the 'baby blues' and studies have also found that symptoms of Post Partum Depression can be eased through babywearing too. On the flip side, babywearing means that baby feels a safe and secure too, thus strengthening the two way bond and helping to develop the parent child relationship.
In addition to bonding, having baby close to you helps you to become a responsive parent, because you are constantly on hand to recognise and address the needs of your baby. If you breastfeed, you can do so while baby is in a sling, providing warmth, comfort and nourishment all at once.
Less crying
It makes sense. Babies who are held close to their parents cry significantly less than babies who are not- and a settled baby tends to mean better sleep too.
Health benefits
Keeping baby securely wrapped or held upright against your chest can also have many health benefits, ranging from easing symptoms of colic and reflux, to regulating baby's body temperature and heart rate. Studies have found that premature babies benefit from kangaroo care (essentially keeping baby close for skin to skin contact) and babywearing can be considered very similar to this. Babywearing can also help to improve baby's communication and gross motor skills as well as helping you out physically too. Think of all the extra walking you'll do so that you can keep your baby close, rather than strap them into a car seat.
Tips for babywearing
If we've convinced you, there are a few babywearing rules you need to consider before you get started. Not all wraps or carriers are the same, and there are specific ways to carry your baby depending on their age too. The Babywearing Institute has lots of safety information online to help you decide which type of sling or carrier is right for you, along with guidelines for use. Please do take a look. Similarly the Ergo blog has lots of posts and articles on safe babywearing and tips to get the most out of it too.
Ultimately, you need to make sure that babywearing works for you and for your baby too. While there are so many benefits to babywearing, that's not to say that it will be the best solution for everyone. Spend some time researching the different slings and carriers available and if you can, try them out first. Make sure you are confident in your decision of sling, and how to use it too.
Comments
comments