When your baby is born, their only means of communicating with you is through crying. Over time you will come to decipher what those cries mean (see this post for more info) and you'll be able to better respond to your baby's needs in this way. Often though, especially as baby gets older, frustration can set in when communication stalls ahead of talking. Your baby will scrutinise your face for clues as to what you're saying, and you will do the same to your baby no doubt! But there can still be times where your baby is not able to tell you what she wants, and that can be frustrating. This is why many parents choose to sign with their babies, and why baby signing can be such an effective way to open up new channels of communication. Not sure where to start? Here's a quick guide to it all.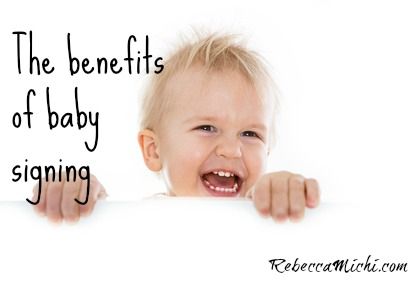 What is baby signing?
Baby signing is non verbal means of communicating with your baby, using a variety of hand gestures to replace words and phrases. Put simply, it is a way of talking with your baby and extending the channels of communication before your baby is able to talk. For many families it is a wonderful way to ease frustration and deal with anger issues related to children being unable to articulate their feelings and desires.
How to get started
If you want to get started with baby signing, there is no time like the present! Some families start to sign the moment they bring baby home from the hospital. It makes sense- after all as soon as you have your baby in your arms, you are communicating with her. Using words, gestures, eye contact and soft sounds to soothe and calm. Your baby will already recognise your voice from her time in utero, and now your body language is just another way that she will be able to start to pick up on what you're communicating.
Once baby is able to focus and look at your face, you can use facial expressions to let her know what you're saying. Your baby may not be able to respond to you with signs of her own, but everything that you say and do is going in and being stored for later use. From the age of around six months she will be really responsive to baby signing, so this is the time that most professionals recommend starting.
Book a class. Lots of families will start off with a taught lesson or two to introduce them to the basics of baby signing, and to help them learn new signs and new ways to communicate with baby. Classes are a wonderful idea because they put you in touch with other families which helps the learning process for both you and baby. For details of your local baby signing class, speak to your family doctor, or search online.
Enrol on an online course. The next best thing. Sites such asBabySignLanguage.com offer comprehensive courses with support and advice to help you on the journey.
Use a book. Your local library or book store will be a great place to look for resources on baby signing and it's handy to have a quick reference at home too.
What are the benefits of baby signing?
The benefits are huge! We've been chatting to UK based TotsPlay who tell us that their baby signing classes use songs, rhymes and instruments to learn new signs and gestures that help baby to communicate with parents and carers before verbal language appears. By doing this, your baby is learning:
Gross motor skills- essential for development
Communication skills
Self awareness
Understanding of language
Understanding of body language
Understanding of emotion
Rhythm
Additionally, through baby signing your little one is nurturing a strengthened bond with you, and vice versa. By being able to communicate with you on a new level, long before what is traditionally expected, your baby is able to get her needs met a lot more quickly. This means that self confidence is boosted, and your baby is likely to be less frustrated as a result.
Baby singing does not hinder your baby's ability to talk- in fact, quite the opposite has been found to be true. When you learn to sign, you will be encouraged to always verbalise the word that you're gesturing too, so that baby has a link between the two. Signing is more about enhancing language than replacing it.
Do you use baby sign language at home with your little one? We'd love to hear from you.
Comments
comments