When you are pregnant, your body is put under a great deal of strain and your emotions can suffer too. It's a huge deal- you're growing a human being, after all! Not only does pregnancy bring it's own challenges with each new development and bodily change, but the birth itself is a massive event too. Then on top of all that, you have a newborn baby to then take care of. Who said motherhood is easy?! It's important to take good care of yourself as much as you can, so here are some tips and advice on just how to take it easy in pregnancy and post birth.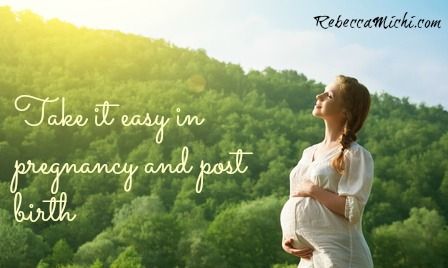 Early pregnancy
This is the time where you are most likely to feel the most tired and, if you're unlucky, a little sick too. Some women escape morning sickness, and others get it bad. Either way, the first trimester can be exhausting and this is also the time that's most difficult as many women prefer not to reveal their pregnancy straight away. This doesn't mean you should suffer in silence though! Rely on your partner to pick up where you can't carry on and take a few early nights. This is especially important if you have other children to look after too. Rest as much as you can and don't be afraid to ask for help.
Second trimester
During the second trimester many women tend to experience a renewed burst of energy. Make the most of this but don't overdo it! Use the energy to do things for yourself too! Go for a swim, or a walk, or out for dinner with your partner. The housework can always wait. It's important to still make time for things that you enjoy doing, and that will help to de-stress you at the end of the day.
Third trimester
You will be at your heaviest! And yes, it's likely that the tiredness will make a reappearance. Hopefully by this point you'll be in the habit of resting and making time for yourself, but if not then now is the time to start! Have that foot massage. Take that extra hour in bed. Value your time first, so that others can see it really matters. At this stage of pregnancy you are going through rapid changes physically and your emotions can be all over the place. Heightened sensitivity can be so much worse when you're feeling stressed and exhausted so take steps to protect yourself where you can.
Post birth
Childbirth can put incredible strain on your body, so the hours immediately post birth are so important. This is the time for you to connect with your baby, and to make the most of that precious time to bond. Hopefully you will have a good, strong support network around you so that you can concentrate on nothing else. Don't try to do it all. The cooking and laundry can wait; what is important is you and the baby, and your recovery from the arduous task of giving birth. No doubt you will be exhausted and probably a little sore too so if help is offered, take it!
Practical tips for taking it easy after birth
Minimise the work. If you prepared meals before you gave birth and popped them in the freezer, now is the time to eat them. Don't worry about cooking unless someone else is going to be doing it for you.
Have a ready bag ready for all uses. A feeding bag with everything you need inside so that you don't have to keep getting up and rummaging through cupboards. A nappy change bag stocked with everything you need. Healthy snacks and bottles of water. Be prepared!
Employ help from friends and family. If they visit, they chip in!
Always have a spare changing bag packed and ready to go. so if you do leave the house you're ready for it.
Use paper plates for a day or two. No washing up!
Unplug the phone. Take the time to just connect with baby and leave the outside world to it for a while.
Sleep!
What are your top tips for relaxing during pregnancy and post birth?
Comments
comments