One of the first things I recommend to parents of newborn babies that are struggling to settle, is to think about trying to recreate conditions as they were in utero. If you think about it, going from a nice warm, snug environment that is perfectly suited to your every need, to suddenly being thrust into the real world must be a real shock for some babies. Everything is louder, brighter and less secure. Some babies need a gentler transition into life and that's why swaddling is so wonderful for calming and soothing.
If you swaddle your baby, you are emulating some of the conditions in the womb, because you are helping your baby to feel safe and soothed in their own little 'cocoon'. Swaddling is just one of the ways to help baby's transition into the 'fourth trimester', and here are some of the reasons why you should do it: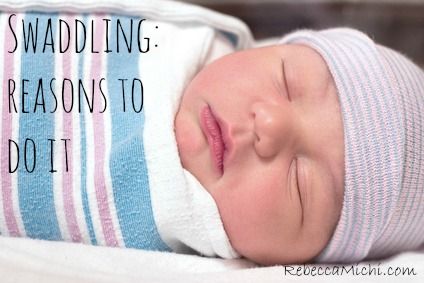 It eases the startle reflex. When babies are first born, they come complete with a startle reflex that can actually wake them at times. If you've ever seen your baby's whole body jump, you will know what I mean. The startle reflex can be quite upsetting and unsettling for some babies, but if they are held securely in a swaddle then the limbs will not be able to move involuntarily.
It improves their neuromuscular development. Contrary to some myths, swaddling does not hamper gross motor skills; the actual truth is that much of your newborn's movements are involuntary and by reducing these movements you are allowing for normal development of controlled movements later on.
It encourages safe sleeping habits and could help to prevent suffocation. It is recommended that babies are put to bed on their backs, in line with government guidelines on safe sleeping. Never ever swaddle your baby and put her to sleep on her front. A swaddled baby will not be able to pull covers over her face and therefore suffocation is a lot less likely. It goes without saying that you must always ensure there are no loose blankets or any other items in your baby's crib while they are sleeping.
Your baby will cry less. If your baby is feeling safe and settled, she will cry less. Swaddling helps babies to feel secure and therefore they are generally happier.
Your baby will sleep better. If that isn't a good reason to swaddle, I don't know what is! Swaddled babies sleep better because they are feeing safe secure and warm. They are not being woken by involuntary movements; this can only be a good thing!
How to swaddle
If you don't have a specific swaddler, you can use a large muslin square or thin sheet. Don't use a thick blanket because you want to be able to regulate your baby's temperature.
Spread the muslin square on the floor like a diamond, with one corner at the top.
Fold the top corner down to create a flat shapes for your baby's shoulders to sit along.
Bring the top right corner down over baby's body and tuck it under her bottom.
Bring the bottom part of the sheet up and tuck under baby's shoulder.
Fold the remaining (left) side over baby's body and tuck into the top of the blanket.
Make sure baby's legs are in the frog position rather than straight, to aid natural positioning- legs drawn up and thighs at right angles to the body.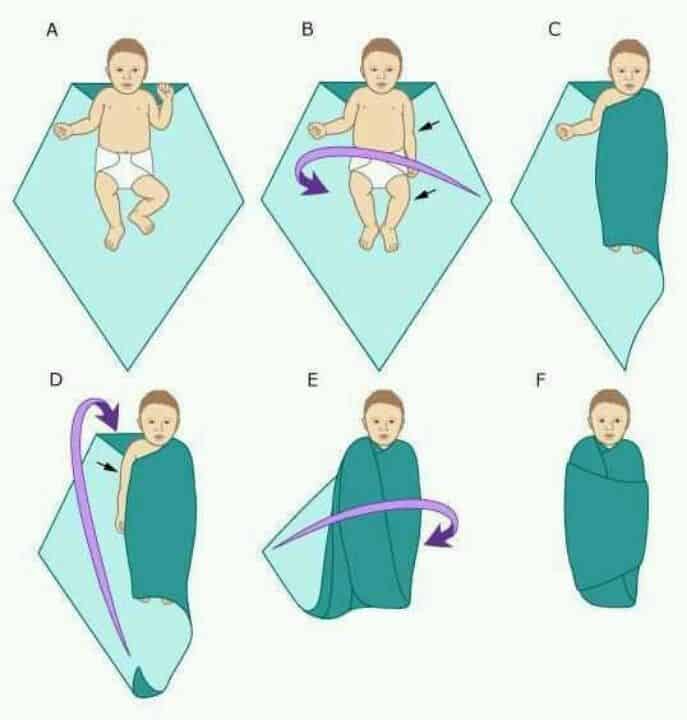 Tips for swaddling
Don't swaddle your baby at feed times. Babies need to be able to use their hands to explore while they're feeding and they also need to be free to swallow and digest. You also want to make sure baby doesn't become too hot during feeding.
Don't cover baby's head when you swaddle her.
If baby cries when you first swaddle her, try to soothe her with your voice or a dummy until she relaxes. At first it will seem strange but eventually she will settle down and allow the swaddle to soothe her.
When your baby is able to roll onto her front, you will need to stop swaddling.
Comments
comments