First of all, sleep training and Christmas don't generally mix all that well. There is so much excitement at Christmas, and lots of disruption to routine. There are late nights and there is also the fact that, as parents, you have quite enough on your plate already. But if you've already started your sleep training and didn't think further than the first few days and now find yourself in the middle of Christmas, fear not! Alternatively, you may have decided that Christmas is the ideal time to start sleep training, since you have two weeks off work and you are not going anywhere tomorrow… either way, hopefully this post will give you a few tips and tricks to help you get your little ones on the right track this Christmas.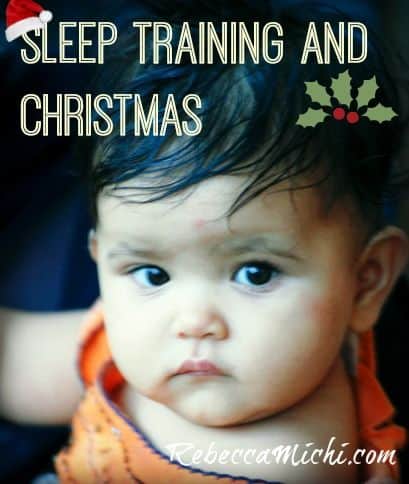 Make the most of the down time. Christmas is wonderful as it usually means that almost everyone you know is off work. This means that you can enlist lots of help during your sleep training. Make sure you tag team so that you can share the night wakings and so that you can each have a period of 'rest' through the night. Also make sure you catch up on sleep the next day too. I usually recommend that sleep training starts on a Friday because you then have two whole days of rest in which you can recover. At Christmas, you are free to start on any day, as long as you know you have a few clear days for recovery ahead of you.
Stay consistent. This is crucial during sleep training. You have to adopt the same approach at Christmas and perhaps even more so. There will be enough going on through the day so make sure you are all agreed on the night time plan. Stick to your plan and don't be tempted to give in because it's Christmas!
Stay calm!  This is easier said than done at Christmas and especially during sleep training, but it really is important. Don't give in to frustration- that's why you have your tag team. Take some time out and return when you are calmer and more focused.
Be prepared for the first night. If you've yet to start sleep training, the first night will probably be the hardest. You won't want to do this on Christmas Eve, when you know older kids will be up early, or lots of family will be visiting and expecting a delicious Christmas dinner. It makes sense to wait until you have a few clear days ahead of you, because sleep training generally takes around three nights before improvements are evident.
Regression. This is another reason why Christmas is probably not an ideal time for sleep training. Most infants will experience a regression around a week after either the start of sleep training or the start of improved sleep. The important thing to remember here is not to give up. It's completely normal and will probably last only one or two nights. Stay consistent with your approach and stay calm too. Repeat your sleep training methods from day one and you will see improvements again.
Still convinced that Christmas is the right time for you to start sleep training? Good luck with it all and do let me know how you get on!
Comments
comments