So now is the time that we really start to test our New Year's Resolutions. Did you make any? Whether you prefer to call them resolutions or goals or even ambitions, most people start the new year with an idea of things they want to change, or achieve or just improve. It's human nature to want to have a refresh in certain areas of life; it's a little like turning to a clean page in a notebook and wanting to write a little neater. If parents were to compare notes after Christmas, many would cite sleep as the one area they would like to improve- we all need it, we all want more of it and we all want our kids to get it. Sleep training is an effective no cry solution to your sleep woes.  So, without further ado, here are some sleep training resolutions you need to keep!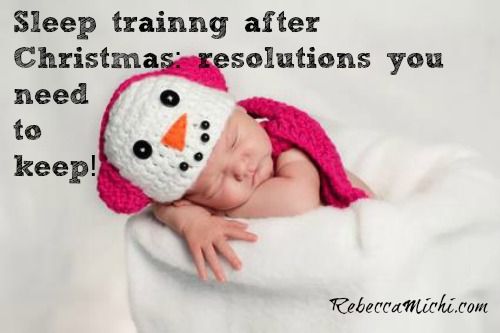 Don't attempt sleep training until you have…
Read my guide to Sleep Training Survival. Make sure you are ready and that your child is ready too. If the excitement of Christmas is not quite over yet, you might want to wait a little longer for it to die down. Also, illnesses and teething can affect sleep training so make sure any Winter sniffles are over before you start
agreed with you partner that this is what you want to do. As my training guide states, you need to tag team. You need support. If your partner is not in agreement with you plan, then you need to sit down and talk it through. Explain your reasons for wanting to sleep train and come to an agreement about it. This could take time, but at the end of the day you want to be on the right page.
recovered from Christmas yourself! If you've had a lot of late nights over Christmas and you've been rushing around like a crazy thing, chances are you're in need of recovery yourself. Granted, a child that does not sleep well is not conducive for recovery, but do wait until you feel emotionally ready. Maybe one or two early nights in preparation? And don't forget that I recommend sleep training starts on a Friday so make sure you clear your diary for the weekend!
Stay strong. Don't be tempted to slip back into old routines once you've started sleep training. The end result, however long it takes you to get there, is always worth it. Stick to your plan, take time out when you need it and rely on each other for support. You can do it.
Seek comfort. Sleep training does not happen overnight, unfortunately. In most cases it can take up to a week to start to see results so it might be a good idea to call on friends during the day. A chat with another parent in the same boat, or with someone who has experienced similar can do wonders for your sanity!
Keep calm. This is mentioned in my sleep training guide, but I want to extend it into the rest of your day too. Keep activities close to bedtime calmer- choose books to read instead of TV, or jigsaw puzzles instead of physical games. Some children need a little longer to wind down long before the bedtime routine starts and after Christmas there can still be a lot of excitement with new toys etc. Try to keep your home as calm as possible for much of the day.
Make sure your days are clear. Whatever you do in the daytime affects the night time for many babies so it's a really good idea to get your routine back in order from morning onwards. That means limiting visits that are not of the norm and creating as much normality as possible. Keep your diary as free as you can in case you need to recoup lost sleep the next day.
If you're embarking upon sleep training in the next week or so, I hope these tips have helped- do let us know how you get on!
Comments
comments