Co-sleeping is an issue that regularly makes the news, and something that many parents experience mixed feelings about. Often families will believe that co-sleeping is dangerous, wrong or irresponsible- and in fact, it can be. If you don't do it safely. But in the right environment, under the right conditions, and controlled by you, co-sleeping can be a wonderful way for the whole family to get the sleep they need. Most families don't set out to co-sleep; it's often a natural progression that occurs when mom is nursing baby, and when baby is unsettled but mom needs sleep too! My advice to parents is always to go with what works best for the whole family- and it's a fact of modern life that, with more women returning to work before their baby has established 'good enough' sleeping patterns, co-sleeping is the answer to staving off sleep deprivation. It's impossible to work while you are sleep deprived. So if you are a co-sleeping family, or you're thinking of doing it, here are some tips on safe bed sharing to help make it as safe as can be.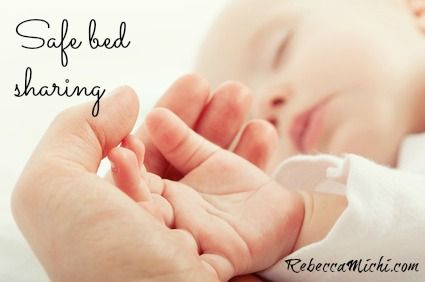 Why are we advised not to co-sleep?
Put simply, there are risks involved in co-sleeping, if safety precautions are not taken. Medical professionals advise that the safest sleeping positions for babies are:
Always on the back- never front, or side
With head and face uncovered
With feet to the end of the bed
In baby's own sleeping environment, night and day- in the same room as an adult
In a smoke free environment
The reasons these precautions are given is due to research done into Sudden Infant Death Syndrome (SIDS)- since parents were advised to follow these safety steps, the number of babies falling victim to SIDS reduced significantly. But the harsh truth is that babies are still falling victim, and until a reason is found, no one thing can pinpoint a cause.
Ultimately, it is your decision. If you do not feel comfortable co-sleeping with your baby, then don't. If you do, there are ways that you can make it as safe as possible.
Safe bed sharing
Lots of parents co-sleep with their babies, often from being newborn. As already explained, it is often a matter of convenience- especially if baby is nursing frequently through the night. And those parents who choose to safe bed sharing are not bad parents! Co-sleeping is not a new parenting fad. Babies have been sharing bed with their parents for centuries and in many cultures today it is still regarded as the most natural way to sleep. So if you decide you want to do it, here are some safety precautions to consider and put into practise:
Make sure that you and your partner are both in agreement with having someone new in the bed. If your partner is not 100% happy with the arrangement, then either discuss it and hope that your reasons for wanting to co-sleep are understood, or have a re-think. There are bedside sleeper cots that can make a pretty good compromise- meaning that baby can still be close for feeds, but have their own separate sleeping area, attached to your bed. Don't bring baby into your bed if your partner is unhappy about it.
Think about where baby will be. Yes, in your bed- but where? In the middle? By your side? If they will be by your side, you will need a guard rail to prevent them falling out of bed.
Keep pillows, bedding, blankets and any other items away from baby completely.
Place baby to sleep on the back, on a smooth flat mattress.
If your bed is against the wall, make sure that there are no gaps that baby could roll into and fall. Check regularly.
Check head and foot boards for slats that are wide enough to fit baby's head through.
Make sure the bed is away from hazards such as blind cords.
Dress baby more lightly than you would if they were sleeping alone. You and your partner will generate more heat.
Never co-sleep if you have drunk alcohol or taken drugs of any kind. Do not smoke.
Never let pets onto your bed, or into your bedroom.
Never leave your child unattended. If you don't want to go to bed when your child does, make sure they fall asleep first in a safe sleeping environment such as a crib, then transfer them to your bed either when you retire for the night,or when they first wake for a feed.
Child proof your room. One day that little bundle will learn how to get out of bed independently and toddle off to explore!
When to stop bed sharing
If it works for you, go with it. If it means more sleep for you and your partner, and being better able to function through the day as a result- then co-sleep for as long as you like! But if nights become restless, or you feel uneasy about the situation then you must take steps to transition baby to their own bed. We've written about this here. Likewise, some babies simply won't like bed sharing witht their parents. They may be naturally restless (and disturb you, too) and may sleep better in their own bed. Consider their needs too.
Ultimately, bed sharing with your baby should be a natural way to get more sleep and bond with your baby- so if it works, do if safely. And if it doesn't, make sure baby is sleeping safely in their own bed. And don't feel guilty either way about the decision you've made for your family.
Comments
comments