The Christmas holidays are on the way and for lots of families this is an exciting time! Unfortunately, many children find this excitement just a little too much and the result can often be frazzled parents and disrupted bedtimes. Last year we wrote about how to work your baby's routine over Christmas, and this year we're focusing more on older kids. Knowing that some children take a little longer to wind down and relax, and knowing that Christmas can be a time where some kids struggle even more to do this, we thought a quick guide to restoring calm at Christmas might come in handy!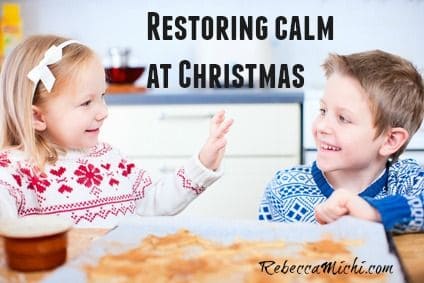 Plan your festive activities carefully
If your kids are already climbing the walls and displaying signs of over-stimulation, you might want to think carefully about how many festive activities you're planning.  Sometimes it helps to take a break from Santa visits and card making, and to focus on something a little less 'Christmassy' instead. This can help to calm kids who are over excited and finding it difficult to switch off at bedtime. This isn't always easy though, as pretty much everywhere you go from now on is going to be very Christmas focused, so it might help to choose your outings carefully for the next couple of weeks. Here are some ideas to try:
Get Active. Take the kids outside for some fresh air, away from the Christmas movies and the packed shopping malls with Santa grottos and Christmas songs. Take the bikes, the dogs or just yourselves and forget the holidays for an hour or two.
Stay in routine as much as you can. While this isn't always possible, it does help to try and stick to your usual bedtime routine as much as you can. Late nights are ok for a treat, but most kids will be better equipped to deal with the excitement of the holidays if they've had the right amount of sleep for their age. Remember that some kids can get overtired quickly, so keep an eye out for signs of this. You know your child better than anyone so if you think an early night is in order, don't be afraid to bring bedtime forward a little. And if you are running later than usual, stick to your normal order of events- eg, bath, story bed- so that your child knows it is bedtime and has a better chance of winding down.
Cut back on Christmas treats. Too much sugar can play havoc with a child's temperament! We're not saying no treats at all, but just be mindful of how much your child is consuming. It's also worth considering the effects of what your child is eating in regards to sleep. See this post for more information.
Be clever with festive activities. Choose activities that you know your child enjoys and won't cause frustration, and those that will keep the atmosphere a little more calm too. Card crafts and baking are usually good ideas, and can be a chance to spend quiet time together too.
Avoid too much TV and online time. You'll know only too well when your child has had enough, and if you already have rules in place then it's a good idea to stick to them over Christmas too. Instead of the TV, encourage your child to read, or to play quiet games with the rest of the family instead
Dealing with chaos at Christmas
It's sensible to expect a little excitement and breaks in the norm over Christmas, so don't stress if this does happen. It's a special time of the year and one that most kids love, so do let them get caught up in it all a little. The key is to know when the festive cheer is having an adverse affect on your child, and knowing how to nip it in the bud before tempers become frayed. you might want to draw up a list of family rules before the big day, letting your child help you so that they can take some responsibility too. For more tips on helping kids to relax and unwind, see this post here. And most importantly- enjoy! Christmas is a wonderful time for families, so make the most of it!
Comments
comments