Over the last couple of weeks we've been looking at pre-term babies and their differing needs when it comes to sleep. There is no doubt that your pre-term baby will need lots of extra care, both during their time in the hospital and once they're home too. But what about you? Who takes care of you? Hopefully your medical team is as sensitive to your needs and emotions as possible, but there are other ways that you can make sure you look after yourself well. Caring for a newborn baby can take it's toll on your health- with the sleepless nights and the 'newness' of the whole thing mainly- but caring for an infant with additional needs can double the workload and increase stress levels too. It's vital that you take care of yourself well in the early days, so here are some tips to help you.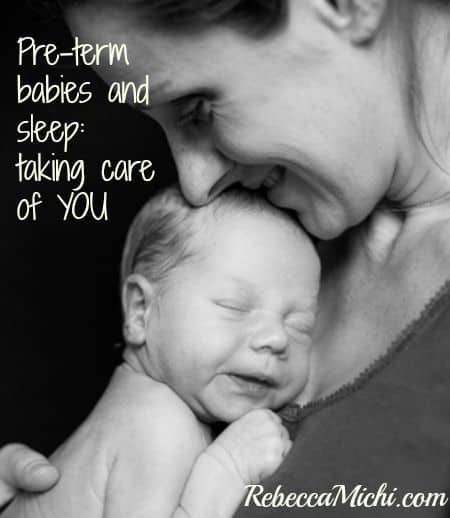 In the hospital
Sleep. As much as you can. Easier said than done when your baby is lying hooked up to machines, but it's important that you recover as much as you can from the physical ordeal of birth. Your baby will need you to be well rested, especially for breastfeeds as sleep and rest is essential for milk production. Trust in the medical staff to come and get you if you're needed- a few hours sleep will not change anything as far as your baby is concerned.
Try to rest as much as possible when you are discharged. This may not be easy at all. It is not right, nor is it fair, that you are required to leave the hospital without your baby. But if this is what you must do, then do it you must. You will probably spend all of your daytime hours at the hospital with your baby, or travelling to and from the hospital to see your baby. This can be exhausting! Make sure you rest when you get home, even if you find you cannot sleep well. End your day with a few moments of relaxation, in whatever way works for you- a long walk, a bath, reading a book. Something for you.
Don't cut off your friends or close family. It can be easily done. Nobody quite understands what you're going through, and you don't have time to see anyone anyway. But you need an outlet and the people who know you best are the most obvious choices. Confide in them. Let them pick up whatever you can't manage at home. Keep them close and don't be afraid to ask for help.
Seek support from elsewhere too. Lots of other parents are going through exactly the same as you, right now. Most hospitals have support groups for parents of pre-term babies, or they will be able to put you in touch with one. Go along and see what you think. It might help to chat to other parents who have either been there before you or know how you may be feeling. Alternatively, look online for a virtual support group.
At home
Be prepared for change. When any newborn baby comes home from the hospital, you can expect huge changes in the house. More so with a pre-term baby that comes home with a long list of medical needs. But you can do it! Make sure that you prepare yourself for the changes that will ensue and let yourself go with the flow as much as you can.
Accept help if it's offered. Nobody can do everything alone so if the neighbours offer to pick up older kids from school, let them. Let your mother in law cook dinner. Let your husband clean the bathroom. Let people help!
Rest, rest, rest! As much as you can. Your pre-term baby may be weeks old, but as we already discussed, they will be sleeping like a newborn and coming home can be a huge thing for them too. They will have been used to the lights and beeping machines at the hospital, so being at home will be a massive change. It is likely to affect sleep, which you will need to recover whenever you can. You know that saying "sleep while the baby sleeps"? Well, try it. You need sleep to be able to cope with whatever the next day is going to throw at you, and to keep your spirit as strong as possible.
Keep asking for support. Keep going to your group, chatting with friends and taking time out for you. It's easy to become all consumed with a new baby, especially one that needs so much attention, but you need to make sure you are there for you too. Your relationships with everyone will benefit and ultimately you will be much more able to parent effectively if you have devoted some of your time to you.
Believe in yourself. This is so important. You may be feeling all kinds of conflicting emotions about your baby right now, and all are completely normal. It's also normal to feel scared; away from the security of the hospital you may overwhelmed but remember this: you can do it. You are this baby's parent and you were born to care for your baby. Believe in yourself.
Are you a parent to a pre-term baby? What tips would you add to the list?
Comments
comments