Lots of parents sleep in the same bed as  their babies and, if done safely, co-sleeping can be an arrangement that works well for many families. Read my post on Co-sleeping Safely here. Often, parents end up co-sleeping with their babies in a bid to get more sleep, and this can be the perfect solution all round, particularly when you're breastfeeding. However, for many families, it is a temporary situation that eventually must come to an end. Exactly when that happens is completely up to you; it's a personal decision, after all. For many infants, adjusting to sleeping in their own bed is an easy transition and night time sleep is barely affected. However, as expected, for others it can be a little harder. So if you're thinking of moving your child to their own bed for sleep, hopefully this post will help!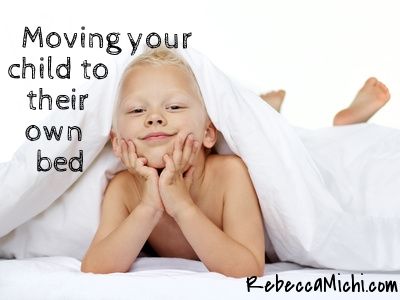 Firstly, you need to make sure that the time is right to move them. If you can answer yes to any of the following, then your co-sleeping days could be up:
Has your child become restless in bed at night?
Does your child wake up more than he/ she used to?
Are you getting less sleep as a result of your child being in the same bed?
Are you disturbing your child's sleep?
Are you running out of room to sleep comfortably?
If you can answer yes to any of these questions, then your suspicions may well be confirmed at this point. Co-sleeping does not usually continue forever, and now is the time to take steps towards a new sleeping arrangement.
Getting ready to make the move
It will be hard, at first, for some children. If your little one is used to sleeping with you and has never known a different situation, then you need to prepare for the move as best you can.
First of all, prepare yourself. This period is over, and you are allowed to mourn for that, but know that in the long run sleep will improve and that you are helping your child to become more confident and secure too. Plus, they are growing up and you can't stop that, no matter how much you'd like to sometimes! Also consider the fact that lack of sleep for you can often mean that your abilities to parent to your usual standards are limited. This is for the best in the long run so remember that.
Next, prepare your child. This is entirely dependent on the age of your child and while we are not going to recommend you make the move at any set age, we will say that it is recommended baby stays in your room until at least six months of age. This does not mean in your bed, so if you are ready to move your baby into their own bed before the age of six months, that is fine. Older infants and toddlers can be prepared in a different way, which we'll cover in a moment.
Younger babies
If you're moving a baby from your bed to a different bed in your room, then it's a good idea to do this gradually. Place the moses basket or crib next to your bed so that your baby can still see you and so that you can respond as quickly as you can when he/ she wakes. Gradually, over a couple of weeks, increase the distance between your bed and theirs. If you want to. At this stage, having your baby in a different bed but close by may be enough.
Babies over the age of six months
If your baby (and you!) is ready to move to their own room, again preparation is key. Read my tips on making the transition from your room to theirs for more information.Talk to your baby about the impending move, and start with day time naps first. Refer to your sleep training methods and do get in touch if you need help.
Older babies and toddlers
Moving an older baby or a toddler from your bed at night can be more tricky. Human beings are creatures of habit, and if your toddler is used to sleeping with you in your bed, it's likely that the move to their own bed is not going to be quite so simple. The advantage of your child being this age is that they can understand you when you explain to them about the new sleeping arrangements. They may not agree, but it won't come as a shock if you spend some time explaining, and telling them all about their lovely grown up bed, etc.
Again, start with day time sleep, if your toddler is still napping. Let your child help you to pick out bedding and new pyjamas and involve them in the process as much as possible. Play time in their own room helps too, as your child will become used to the surroundings a lot better if they're familiar with it.
During the night, be prepared to spend time reassuring your toddler, and don't forget your sleep training methods too. This part is hard, but in the long run (no matter how long it takes) your toddler will sleep better and for longer periods, and so will you. Gain support from family and friends and remember that eventually the situation will settle down and your toddler will become a more confident sleeper all round.
Comments
comments