When my eldest was around three days old, I took her home from the hospital and began to prepare for visitors. I knew that lots of friends and family were keen to see her, and I was ready for their exclamations of delight, questions about the birth and their congratulatory hugs. What I wasn't ready for was the question that repeated itself almost constantly for months.
When are you having another baby then?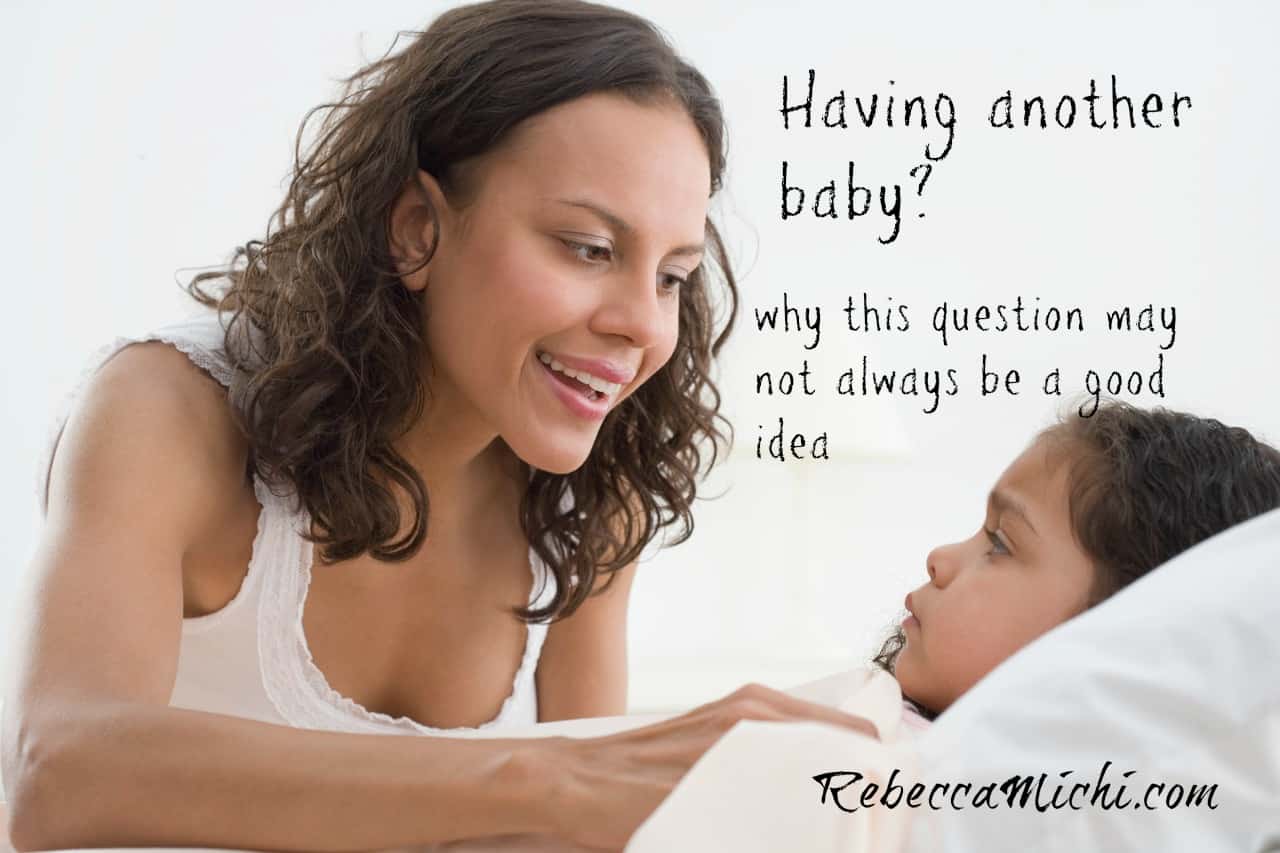 Seriously? A new mum is barely out of her hospital gown and you want her to do it all again? Taking a light hearted approach to it all, I laughed. I told those well meaning guests that one was enough for now, thank you very much. And later, when my eldest was older and no siblings were forthcoming, I still managed a smile- but it never quite reached my eyes.
Questions regarding whether or not a child shall remain an only child or not are not questions to be asked lightly. There can be many reasons why a couple only have one baby, and it isn't always polite to tell the truth. In reality, I desperately wanted another baby, but the timing wasn't right. When we did decide to start trying, things didn't happen straight away either. I have to say that fielding these questions after yet another negative pregnancy test certainly made that smile a little difficult.
As it turns out, there are five years between my first two children, and just two between the youngest. I did have another baby, and I do probably still want more. But you know what? That's my business!
I have a friend who recently made the difficult decision not to extend her family. She and her husband felt that their daughter being an only child was best for them, and they were happy with this choice until those well meaning questions began. They have deeply personal reasons for not wanting another baby, but most polite conversations do not really want to know about them. And for other friends who have suffered countless miscarriages, or pregnancy complications, these questions cut a little deeper still. Sometimes it isn't just a case of deciding to have another baby and taking it from there. Sometimes the decision is taken away from us, and sometimes that hurts. Sometimes it isn't a suitable topic of conversation for visitors.
I am at a different end of the spectrum now. As it stands, my youngest is almost two years old. Each of my children have been born via c-section and society deems three of those to be enough. Any musings over another baby are dismissed with exclamations that I can't have any more! Large families are a drain on society! I have enough to do! I need to think about the children I have; be thankful for them!
Let's get it straight. I am thankful for my three children. I am aware that many women are advised not have to more than three c-sections. I am also aware that three children keep you busy! But, and this is a very big but, this is my decision to make. Just as the mum who has been told she must not have any more babies may yearn to feel the swell of her belly once more, being told I shouldn't extend my family beyond three can be equally as upsetting. Having another baby is a decision that only two people can make, and offering your opinion on it can not only cause offence and upset, but really does not help either!
Only children, larger families, risky pregnancies and the pain of loss. We go through it all and we see it all when we become parents. We all have views and we all have different ideas on what makes the perfect family. But what we really need is the ability to think before we ask about 'the next one'. The mum next to you has a story that you may not know- don't force her to smile through her tears.
Comments
comments