Last week we featured a guest post from a mum who is wanting to wean from the breast at night. Families are often asking for tips for weaning night time feeds so if you are experiencing similar, be assured you are not alone! The night feeds are often the hardest 'habits' to break and lots of parents can feel as though their child will never sleep through the night without food or comfort from them. But don't fear- it can be done, kindly. Here is a quick guide to weaning from the breast or bottle at night, with a few questions before we begin: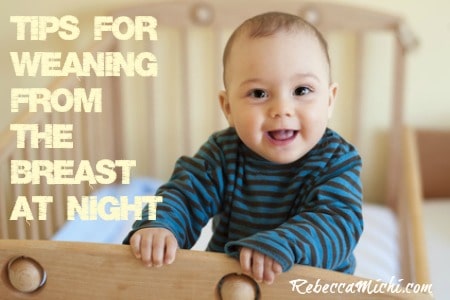 Is it the right time? 
Are you sure that your child is ready to wean? Are you sure that you are ready to wean? Don't think that you 'ought' to do it because that is what other parents are doing. If your current situation is working for you then take a look at the reasons why you feel weaning at night is a good idea.
Is your child hungry?
This is, in many ways, a similar question to the last. If your child is able to go to sleep independently your child is therefore able to self settle after night wakings too. If your child is waking and wanting to feed, chances are that they are genuinely hungry. Depending on the age of your child, you might want to consider why they are waking up hungry before you try to take away those feeds. Are they eating enough during the day? Are they taking full feeds at night? If the answers are no and yes respectively, take a look at ways you can rectify this.
Is your child feeding to sleep?
If your child relies on a feed to fall asleep at bedtime, there is a strong chance they will need to do that when they wake in the night. The key here is to teach your child how to fall asleep independently instead.
If you've established that your child is eating enough during the day and is simply waking through the night for comfort rather than sustenance, here are a few things that you can try to aid weaning at night:
Cold Turkey. My least favourite method as, for some families, it can be distressing. This literally means no feeds until the morning and you need to be consistent with this. A harder option, but it might work if your child is not taking much at each feed and is not feeding for long, or if they are comfort sucking.
Lengthen times between feeds. This is great for children who are waking frequently and taking fair amounts of milk at each feed. What you need to do is set your feed times through the night and only feed around those times. If your child does wake up before a set feed time, you need to get them back to sleep using your sleep training methods.
Reduce the length of each feed. This method is another preferred option that means you are gradually weaning rather than withdrawing all at once. This one works for children who wake to feed for around the same length of time each feed, so for example 25 minutes. On day one you need to cut that feed down to 20 minutes and stay like that for 2/3 days. Then keep shortening the time for another 5 minutes. When your child is feeding for just 10 minutes each time, you can simply withdraw this feed altogether and use sleep training methods to get them back to sleep until they are no longer waking for feeds. If your child takes a bottle, reduce down an ounce each night until you are down to just 2 ounces.
Weaning from the breast at night can sometimes be an emotional experience for many families, so make sure that all caregivers are aware of the method you prefer and your reasons for doing it. Dropping night feeds is just another part of growing up and while that can be harder for some than it is for others, it is something all babies will experience at some point. Good luck, and do let us know how you get on!
Comments
comments