Dream Feeds often come up in conversations with families and it seems that lots of new parents have questions regarding how to make them work. Hopefully this post will tell you all you need to know.
What is a dream feed?
A dream feed is, quite simply, a feed during which your baby is not fully awake; some babies will not even stir as they are fed. Similarly, some babies may wake during a dream feed but usually go back to sleep quite quickly.
Why dream feed?
The theory is that you give your baby a feed just before you go to bed, so that they are able to sleep for an extra 4 to 6 hours without waking for food. In return, you also get to sleep for 4 to 6 hours without being woken for food!
Do dream feeds really work?
As with anything, it all depends on your baby. For the majority, being gently woken enough to latch on to breast or bottle and then being allowed to suck and swallow whilst drowsing is an excellent way to get a few more hours sleep during a night. For some, being woken to feed before it is time can be hugely disturbing and absolutely not the right path to take. There is no specific scientific evidence that suggest dream feeds are the answer to a good night's sleep but the option is there to give it a go!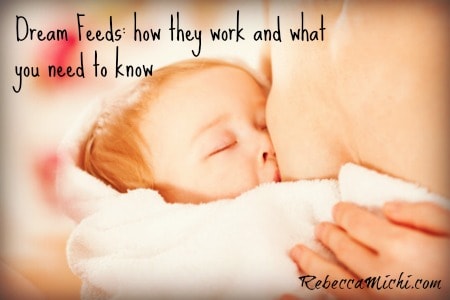 How to do a dream feed
If you do want to give dream feeding a go, here are some tips to get you started:
Choose your time. This will depend on the time of the last feed, and the latest time you can manage before falling asleep! If your baby fed at 7pm, a dream feed at 11pm is reasonable. If your baby last fed at 8pm, 11pm may still be ok- you are the best judge of this.
Be mindful of sleep cycles. Your baby will be in their deepest sleep during the first part of the night and may not be able to wake enough for a feed, although most babies will wake just enough to feed.
Keep the environment dim and peaceful. It goes without saying, but don't speak to your baby, turn on lights or make lots of noise during a dream feed. The idea is to allow your baby to fall back to sleep as they feed.
Only wake your baby enough for them to latch on. Gently lift your baby and hold them in your arms for the dream feed, making sure you don't move too much.
If your baby doesn't wake easily, try gently stroking the cheek with nipple or teat to stimulate the rooting reflex. If this still does not work, try gently stroking the sole of the foot or the hand.
If your baby still does not want to wake for a dream feed, leave it for that night and try again the next day.
Don't wind your baby after a dream feed as this can be disturbing. As dream feeds are taken during sleep, no air is taken in and so winding should not be necessary.
Benefits of dream feeds
If you breastfeed, you can express a bottle and partners can take over this particular night feed. For mums, this means you can go to bed earlier ahead of middle of the night/ early morning feeds.
You may get an extra 4 to 6 hours of uninterrupted sleep!
There are also a few cons to dream feeds and some families find that it does not work for them. It's up to you to decide whether or not this method is going to be useful. You may want to bare in mind:
Some babies will wake up and so dream feeds may need to be taken at a different time, or abandoned altogether
Some babies take a week or so to settle into the new routine of taking a dream feed. Allow for this and see where you are after a week.
Some babies may not respond well to having their natural feed cycle interrupted. If your baby is not happy after a week and dream feeds are causing more disruption than extra sleep, then you may want to re-think your approach.
Some babies may wake more frequently after they have been woken for a dream feed.
Do you dream feed your baby, or are you thinking of doing so? We'd love to hear from you!
Comments
comments