What time does your little one get up in the morning? And now tell me, how do you feel about what time your little one gets up in the morning? There's no denying that becoming a parent means a few lifestyle changes here and there. Mainly, you can expect that there will be less sleep on the agenda! If your answer to the first question is "early" and to the second is "not happy" then perhaps these tips on dealing with an early riser can help!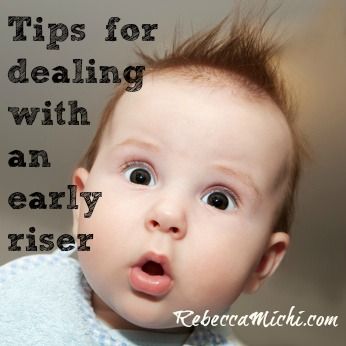 Take a look at possible reasons why your child may be waking early. Is the room too light? You may need to invest in a blackout blind if so- see more info on creating the ideal sleeping environment here. Are there certain sounds that could be disturbing your child's sleep? Look at ways of eliminating them and you may just find the answer to a little more sleep.
Is your child hungry? Take a look at mealtimes and portion sizes and make adjustments if you think you need to.
Take a look at day time naps. It may be that your child is getting too much sleep during the day, and this is impacting on night time sleep. Try cutting down the length of naps and see whether your little one starts to sleep a little longer at night.
Try your sleep training methods to encourage another hour of sleep. Read more on the Michi Method here. It might be that your child just needs a little assistance getting back to sleep for another hour or two.
If your child is a little older, you might want to consider the power of persuasion. Let them know that the time they're choosing to get up is too early and perhaps they can spend some time quietly reading instead.
We spoke to Claire (AKA @MummyStory ), who is mother to an early riser, on how she copes with early starts. Claire told us that her days can sometimes start as early as 4.30 am and there are night wakings to deal with too. Claire says that she always makes sure she serves supper for her little one so that his belly is full by bedtime. She also uses a lullaby app to encourage more sleep. Claire also uses a night light to combat a fear of the dark and keeps the temperature of the room controlled. Despite all of this, her son still rises early! So why am I telling you this? Well…
In some cases, you may need to just accept that your child is an early riser. That means the last tip here is simple. Go to bed early. Seriously. If you're not already, you need to curb your late nights so that you are rested enough to parent an early riser. But that doesn't mean that all is lost. Anything pre 5am is generally considered to be too early, so do try the above tips and see if there are any changes you can make at all. You might be surprised!
Comments
comments