Having a baby is not easy. Pregnancy itself is a mammoth journey, ending in one of the most strenuous tasks the human body is to endure. And then you have a baby to care for. It's huge. Emotions and hormones are raging through your body at a time where you are most likely to feel vulnerable and exhausted. And when you throw in added tiredness from sleepless nights (newborn babies sleep a lot, but in chunks so chances are, your sleep will be broken too) things can seem pretty overwhelming at times. This is totally normal, and to be expected. But for some women, the so called 'baby blues' don't settle down after those initial whirl wind weeks, and feelings of exhaustion, desperation and low moods can continue. Up to 80% of new mothers experience the baby  blues, while 10-15% suffer from Post Partum Depression  (PPD) in some form or another- so you are not alone.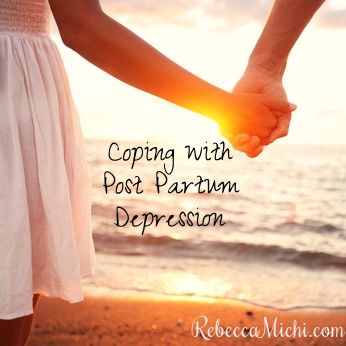 How do you know if you are suffering from PPD?
Chances are, you have some inkling that all is not quite right. You may be experiencing a combination of:
Irritability or feeling extra sensitive
Have difficulty concentratin
Feel anxious and worry about lots of things
Crying or tearfulness
Feelings of anger
Negative feelings- sadness, hopelessness, helplessness, or guilt
Lack of interest in activities you usually enjoy
Finding sleeping difficult (especially returning to sleep)
Feelings of fatigue or exhaustion
Significant changes in appetite or eating habits
Frequent headaches, stomach aches, muscle or backaches
If you are experienciing some or all of the above, it's important to reach out for help.
What causes PPD?
Some women are more likely to develop PPD after they give birth, but there are no definite causes in many cases. Often a combination of things can add up, and often predictors can mean that a person is more likely to develop the condition, such as:
Periods of feeling low or anxious during pregnancy
A difficult pregnancy or birth
Prior history/ family history of depression or PPD
Stressful life situations- money, marriage, moving house etc
Low self-esteem
None of these risk factors will cause PPD, and often new mums fail to recognise that they are feeling depressed; a common feeling is that there is nothing to be depressed about. But if you are feeling low, and you're concerned about how you're feeling then it's important to seek help.
How to get help
Lots of women will carry on without seeking help, and often this can result in symptoms worsening. If you factor in sleep deprivation too, things can quickly escalate and become a lot worse. It's vital that you are able to reach out when you feel you need support.
Talk about it. Speak to your doctor, or your close friends/ family. The first step is to admitting how you're feeling and that old saying about a problem halved is quite true. It can help to verbalise the way that you're feeling to someone else, and especially to other women who've been in a similar situation.
Look after yourself.  Make sure that alongside meeting the basic needs of your family, that your needs are addressed too. Eat well and try to sleep well too. Lots of mums find that taking regular exercise helps to lift symptoms of depression too- even if it is a quick walk with the stroller. Take some time to do something for you.
Don't impose strict expectations on yourself. Nobody is a superhero and this is no time to try and prove otherwise. Don't strive to be perfect in an imperfect world- accept that some things are beyond your control, and that you are doing your best.
Ask for help and support. If you are struggling, there is no harm in admitting that. We all need help from time to time and being a new mother is extremely challenging. Don't try to do it all by yourself.
It's so important that you seek medical guidance if you are suffering from PPD. In doing so, you are not admitting defeat, and you have not failed anyone. What you are doing, is putting the needs of yourself and your family first by addressing the problems that you're experiencing. There are different ways to treat PPD and only your doctor can help you decide on the best course of action. Ultimately, it is up to you to seek help and support for an illness, in much the same way you would for a broken leg or another visible ailment. Depression is nothing to be ashamed of, and reaching out for help is essential.
If you have suffered/ are suffering from PPD and would like to share your story with us, please do get in touch.
Comments
comments